The 10 Best Tours to Machu Picchu 2022-2023
Orange Nation guarantees you a pampered experience. Providing you with the best equipment, scrumptious and abundant food prepared by our well-trained chefs and each tour will be led by one of our experienced, bilingual and personable guides. We have compiled a variety of tours, factoring in different budgets, fitness levels, schedules and travel personalities.
Personalized service
Fully Customizable
Book with confidence!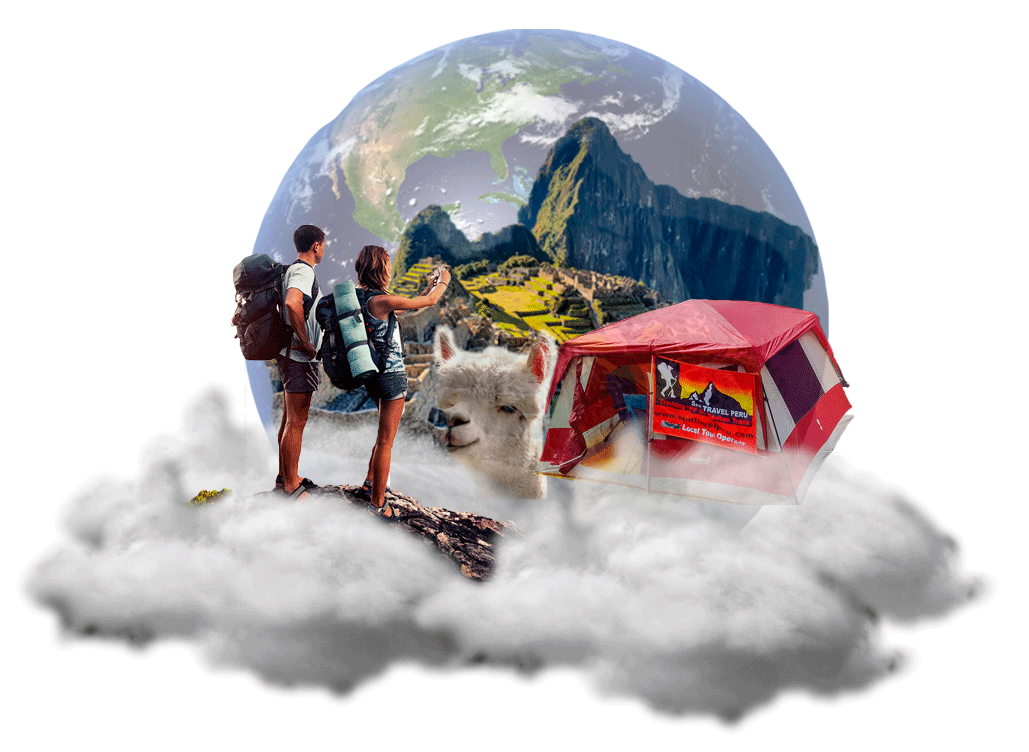 Get Inspired to Visit Peru
Are you planning a hiking trip to Machu Picchu? If you still can't decide which tour you will take, you are in the right place; on this page, you will read the essential aspects of the most popular hiking tours to Machu Picchu. Find below the most popular tours to the great Inca citadel. Learn the most important facts about every tour and why you should choose one.
Customize Your Tours
Let our team of expert travel advisors help build your dream trip to Peru. Our fully customizable South America vacation packages allow you to hand-pick the destinations you wish to see at the exact pace you wish to see them. All of our offerings are also vetted firsthand by our team to ensure top quality and comfort.
Our Last reviews the Inca Trail
---

Verified
Great Tour, Team and Guide Pretty much a perfect experience that far exceeded expectations. The porters were excellent & friendly with great service. The quality of the meals (3 courses while on a mountaintop) were better than most restaurants. Our guide Koko was perfect. He knew about all subjects but also let us dictate the journey. Most importantly he gave great insight to the cultural & spiritual aspects of the Inca. We all were really happy and noticed that the trip became personalized for our small & fast group rather than being a forced template. Can't recommend enough! 💙

Verified
Great MP Experience Great tour, the guide was very helpful, the food was nice and the trekking also amazing! Very good experience

Verified
Una caminata lleno de carcajadas y el guía muy atento La mejor elección fue nuestra agencia ORANGE NATION Perú. Hicieron que la experiencia sea increíble y pensaron en cada detalle. Refrigerios y hasta las comidas con su propia Carpa. Recomiendo complementamente esta agencia. Muy contentos con nuestro viaje lo pasamos muy bien

Verified
Viaje fabuloso Fue un viaje sumamente hermoso, lo pasamos lindo con el grupo gracias ala agencia ORANGR NATION.y gracias al equipo humano

Verified
ORANGE NATION / Sam travel / Jhony We did the 4 day Inca Trail with tour guide Jhony to Machu Picchu, and I couldn't have had a better experience. His knowledge of the ruins along the trial and his experience in my Opinion is unmatched. This tour was one of the best experiences of my life. Not only was his expertise helpful but I consider him to be a new friend of mine. I would take any hike or Tavel experience with this gentleman again. 10/10 experience with this entire crew and would book again with Orange nation in an instant. Jhony was amazing. If you're looking for an amazing experience and a guide who is knowledgeable, book with Orange nation and tour guide Jhony.

Verified
Experience of a lifetime We did the traditional 4 day Inca trail hike & it exceeded our already high expectations. Our guide Jhony was super knowledgeable and friendly and helped to create a bond between our group from the very beginning. The food was incredible and varied & their were plenty of little touches that made our trip even more special. It was my first multi day hike and although it was challenging, sam travel / orange nation made the journey as comfortable, relaxing, and fun as possible. Highly recommend!!

Verified
Awesome Experience Orange Nation did an excellent job of covering all of the details of my daughter and my 2 day trek on August 5&6, 2021 for what we felt was an affordable price. Our Andean guide, Liz, spoke English well and was informative in explaining historical, cultural and spiritual aspects of the ancient native people. We were inspired and awestruck by the the beauty of this trek! HIGHLY RECOMMEND
Verified
Inolvidable Lares Trek ¡Pero que feliz me siento..! Una de los momentos más inolvidable en mi vida fue en el Tour de Lares Trek ,gracias a la recomendación de algunos amigos que ya habían tenido la experiencia de viajar con Orange Nation. Y si…! Orange Nation fue muy responsable desde mi recojo para el Tour , siempre mostraron ese profesionalismo que mis amigos me contaron y también me di cuenta de eso, como también el gran equipo que nos acompañó en el tour , Nuestro cocinero fue el mejor , preparaba la mejor comida que jamás había probado antes. Y el Guía quien fue muy divertido durante todo el camino hasta el fin del viaje, siempre estaba al pendiente de nosotros y eso me hacía sentir feliz. Pase momentos únicos que aún no puedo olvidarlos y cada vez que lo recuerdo me siento feliz, la experiencia con Orange Nation es la razón de todo eso. Me brindaron un gran servicio que no lo había esperado, pero me sorprendieron. Son los mejores, ¡súper recomiendo!

Verified
MACHU PICCHU Estar en la Gran Maravilla del Mundo "Machu Picchu" es un sueño que todas las personas quieren vivir. Mi familia y yo tuvimos la gran oportunidad gracias a Orange Nation , una Agencia muy responsable y muy profesional . Quienes se encargaron de todo para que mi viaje sea el mejor y fue así. Mi familia estaba super feliz y es por eso que quiero agradecer a Orange Nation por esta gran experiencia. Por todo el trabajo que hizo, por la magnífica organización y sobre todo por el profesionalismo que resalta siempre en ellos. ¡Gracias una vez más!

Verified
El Mejor Viaje Mi familia y Yo realizamos un pequeño viaje a Perú (Cusco) donde teníamos planeado visitar y sentir esa magnífica felicidad de estar en una de las maravillas del mundo "Machu Picchu". Pues no fue fácil, ya que primero tuvimos que sentirnos bien con la altura ya que le afecto un poco a mi Esposa, pero eso no fue un problema para que se lleve a cabo nuestros planes. Por suerte encontramos a Orange Nation, una Agencia muy profesional y sobretodo responsable. Orange Nation se encargó de todo para que mi viaje sea el mejor, nos ofrecieron el tour de (Cusco- Machu Picchu) de dos días. Me encantó la idea ya que no nos sentíamos muy bien así que el primer día visitamos el Famoso Valle Sagrado de los Incas, un Lugar muy tranquilo y lleno de tradición donde podrás contemplar la naturaleza y también hermosas vistas de los diferentes pueblos que se encuentran en el camino. Nuestro Guía fue el mejor, durante todo el viaje fue muy profesional y cuidadoso, siempre cuidaba de nosotros y eso nos hacía sentir seguros. El segundo día fue el mejor, por fin pudimos estar en la Maravilla del Mundo "Machu Picchu" nos sentimos súper felices y muy emocionados, al fin pudimos cumplir uno de nuestro grandes sueños, pero también me siento muy feliz por haber elegido a Orange Nation. Nos sentimos muy agradecidos con ellos por el excelente servicio que nos dio y solo hay una palabra para eso "profesionalismo" y ellos lo tienen,solo decir una vez más Gracias. Súper recomendado.
What to See at Machu Picchu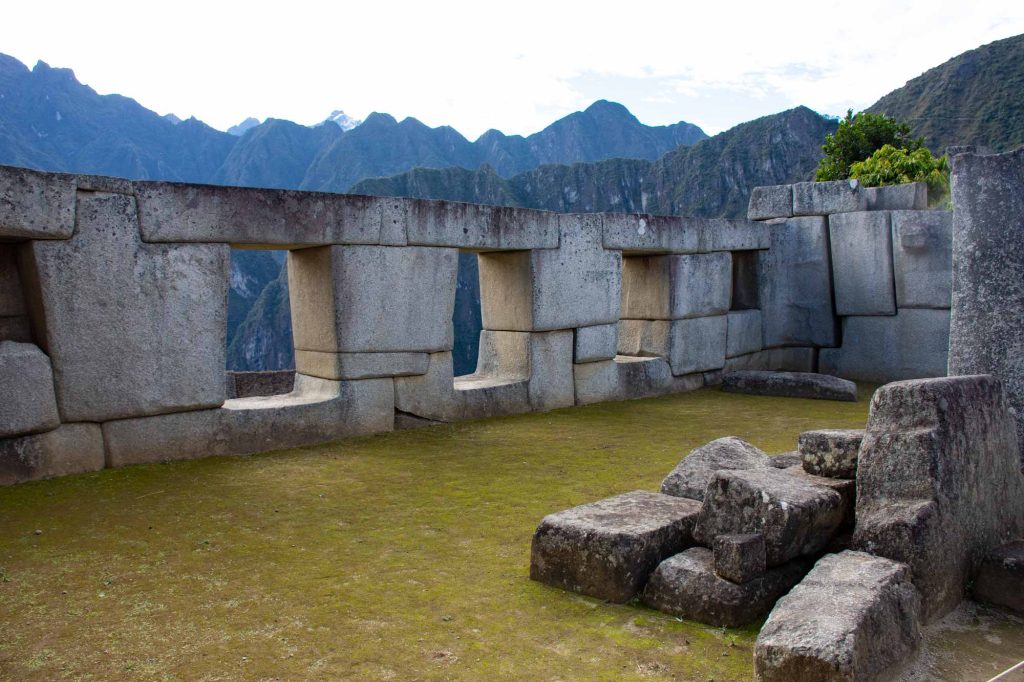 Temple of The Three Windows
It is an imposing site at 10 meters long and 4 meters wide. Its construction is immaculate, proving the value and importance placed on it by the Incas. It's located at the Sacred Plaza in the Main Urban Section of Machu Picchu. It once had five windows, but now only three of them remain. Each window is said to represent something: First one represents the Underground (Uku-Pacha), the second is the Heavens (Hanan-Pacha) and the final one is The Present (Kay- Pacha). There are different theories as to the history of this structure, the version of the Spanish Conquerors and Folklore, both versions are contradictory. There was an inscription on the stones dated July 14, 1902, but where subsequently removed upon the arrival of Hiram Bingham.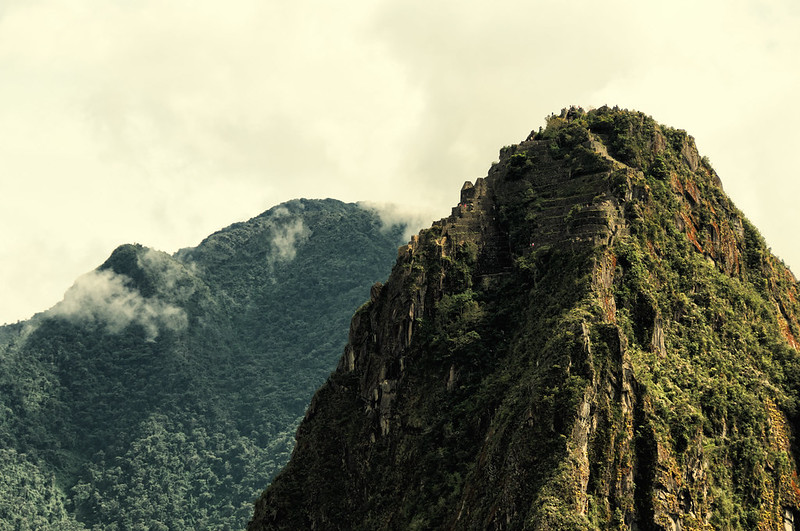 Huayna Picchu
The peak of Huayna Picchu rises over Machu Picchu, where the Urubamba River gently coils around it. It is at an elevation of 2 693m/8 835ft. The mountain is home to the breathtaking Temple of the Moon and adjacent to it is the Great Cavern made of fine masonry. The high priest and local virgins resided here. Its visitors are limited to 400 a day, during the only 2 time slots available each day. The hike is steep, with exposed sections on the pathway leading to the summit. It can get slippery, however certain section do offer steel cable for support. The view at the top gives you the most panoramic and spectacular views of Machu Picchu. Majority of the stunning pictures you find on postcards and social media are taken at the top of Huayna Picchu.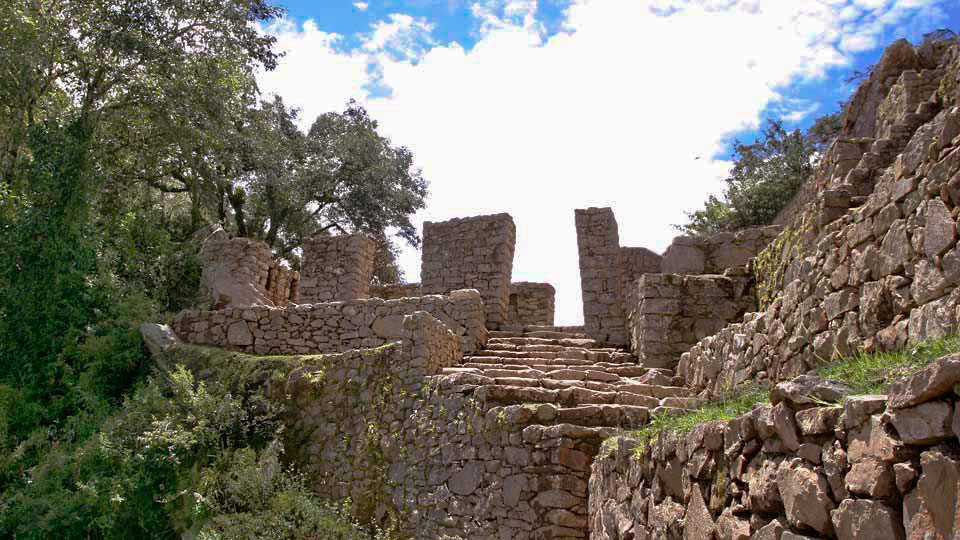 Sun Gate
The Sun Gate (2,720m/8,924ft), also known as Intu Punku, is perched on the hilltop overlooking the Great Citadel of Machu Picchu, located on one side of Machu Picchu Mountain. It is the first viewpoint of Machu Picchu and only people hiking the Inca Trail are privileged to the stunning views this vintage point provides. The Incas used it as a kind of control gate for the people entering and leaving the Inca City of Machu Picchu. Because of its remote and strategic location, it is believed that Machu Picchu only welcomed elite guests from the empire. It is a large place, with windows and doors supported by terraces. From the Sun Gate you can see the entire City of Incas and the size and majesty of it simply takes your breath away.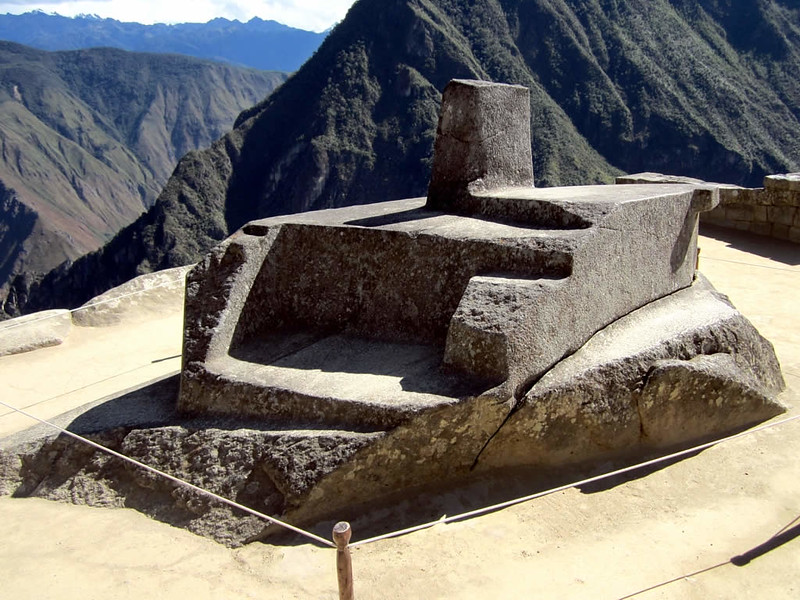 Intihuatana
Intuhuatana is a large imposing stone carved directly into the bedrock of the mountain´s summit where Machu Picchu lies. The Incas believed the stone held the sun in its place along its annual path in the sky. The Spanish destroyes other Intuhuatana because they feared it would create a political liability due to its religious significance. Even as it stands today, it still feels like the stone radiates energy.
---
Faqs