Day 1: Cusco – Cuncani – Kiswarani
The adventure begins with an early pick up at 5:00am from your Cusco hotel, making our way through the sacred valley along the Urubamba River towards the small town of Calca. Our first stop is at the Calca market so you can purchase any last-minute snacks, like fruits, nuts or water. What makes this trek unique and special is the countless interactions you will experience with the indigenous Quechua speaking communities we pass along the way. So, we recommend that you consider purchasing small gifts like toys or bread to extend some goodwill to the villagers. Our journey continues to Cuncani, a village that sits above the clouds. We stop here for our first of many hearty breakfasts prepared by our talented chef. While you tuck into your food, enjoy spectacular views of waterfalls, mountain peaks, green hills and the lush valley.
Once we finish breakfast, we handover our duffel bags to our horsemen, keeping only your day backpack with daily essentials. We embark on our first incline towards the highest point for the day, Willqaqasa (4,200m/13,779ft). On arrival, we take a break to enjoy the stunning scenery with fleeting clouds gently flowing over the mountains and a number of beautiful lakes scattered across the mountain sides. This is a perfect spot to dig into our extensive 5-course lunch, a spread that can rival some of the best restaurants in Cusco.
After lunch, our trail passes the Pacchayoc Waterfall (7 waters waterfall), a stunning natural phenomenon. We continue on a short 2-hour descent towards Kiswarani. This small isolated village has access to humble flushing toilets, nothing fancy, but definitely a welcomed convenience. Experience the traditional lifestyle of this indigenous community and interact with the rose-cheeked children eager to play and get to know you. Later, we tuck into our delightful dinner that our chef cooks to perfection, before settling into our spacious tents for our first night under the stars.
Meals: Breakfast – Lunch – Afternoon Tea – Dinner
Accommodation: Camping facilities with bathroom building
Distance: 12kms / 7 miles
Time: 6hrs approximately
Difficulty: Moderate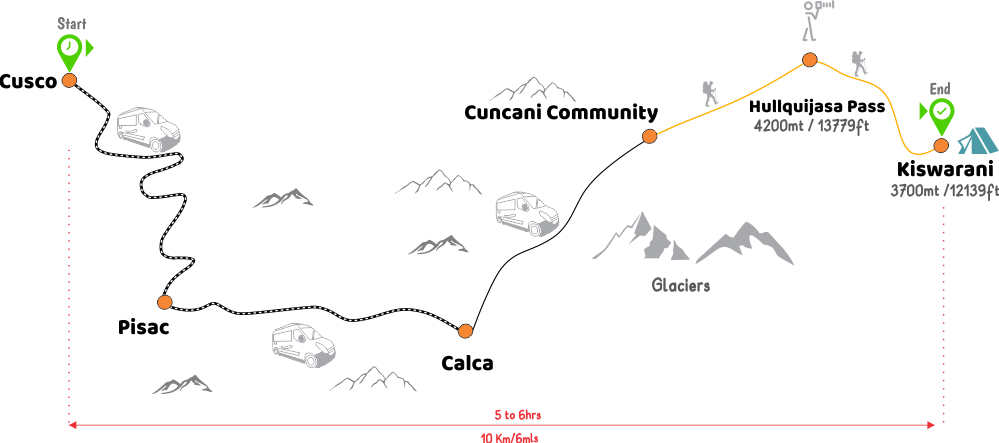 Day 2: Kiswarani – Pachaqutec Pass -Cancha Cancha
Awaken on day 2 surrounded by green lush mountains covered in snow. Your morning call is your guide serving you hot cup of tea in your tent followed by a basin of warm water to freshen up. Eat breakfast like a king, clearing your mind for the exciting and challenging day ahead. ¨All happiness depends on a leisurely breakfast. ¨ John Gunther.
We begin our day following an uphill zigzag pattern to Pachacutec Pass at 4,700 m / 15,420 ft. It is a somewhat intense walk, passing through small thatched stone houses, the transverse landscapes and high passes. At the summit, immerse yourself in breath taking views of the turquoise Pachacutec lake and the heart of the glazier atop mount Pitusiray. Close to here is our lunch spot, which we tuck into surrounded by the magic of the mountains. The fog that gently flows over the mountain tops gives an overwhelming sense of peace, serenity and calmness.
After another abundant lunch , we start a slow descent towards our second camp in the village of Cancha Cancha. Upon arrival, our horsemen will have camp already set up and the chef will serve afternoon tea with snacks. Also use this opportunity, if you wish, to purchase some homemade textiles from the locals made from the wool of the many alpacas you see grazing in the fields. Later, we settle in for dinner, which many consider a phenomenal tent dining experience. After dinner, we join our guide for a tail of how the Incas used the constellations to guide their farming seasons. Up to and including today, the locals still follow this ancient farming method. We retire into our tents for our last night of camping in the Andes.
Meals: Breakfast – Lunch – Afternoon Tea – Dinner
Accommodation: Camping facilities with bathroom building
Distance: 14kms / 10.3 miles
Time: 7 to 8hrs approximately
Difficulty: challenge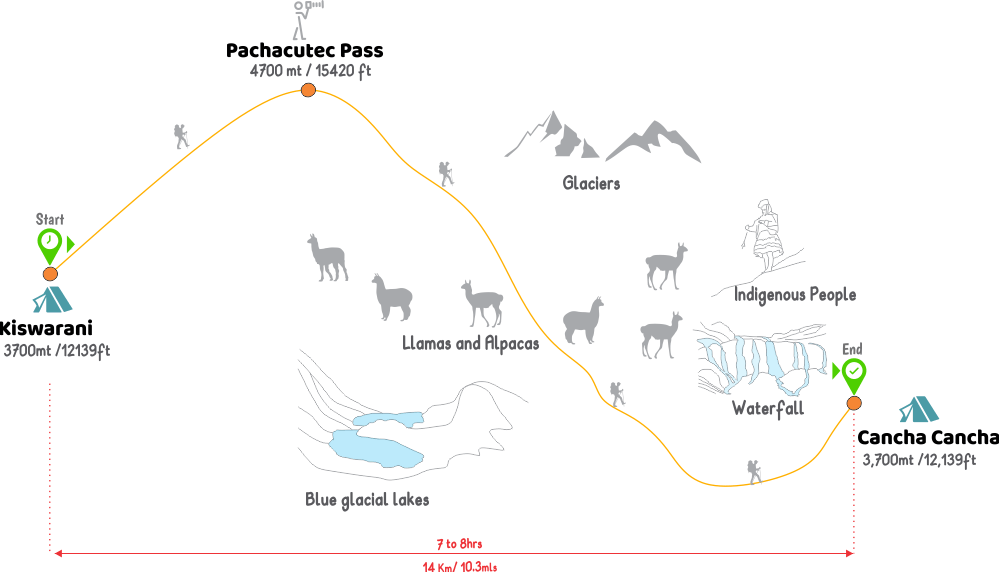 Day 3: Cancha Cancha – Huaran – Ollantaytambo – Aguas Calientes
This is the most relaxing day so far! After breakfast we will possibly visit the local school of Cancha Cancha, depending on the time of the year. You get to explore the village, its people and maybe play a soccer game or two with the kids. Once ready, we continue on a relaxing descent to end of the of the Lares Valley Trek. Along the way we have a small river to accompany us. The climate also changes, becoming significantly warmer and the trees and foliage become a bright green, sprouting a variety of vibrant colors. We also pass by many alpacas and llamas and for the first time on the trail cows and sheep. You will see farmers harvesting potatoes and beans by hand, and see firsthand Peruvian agriculture and tradition.
When we arrive to Huaran, we stop at the river bank for one last meal for our dedicated chef before they have to bid us farewell and head back to their respective highland villages. From Huaran, our private transportation picks us up for a ride though the Sacred Valley to the Salineras, the Salt Mines of Maras. We spend some time, exploring these fascinating Pre- Inca Salt Mines. The locals have full mining rights and extract salt the same way their ancestors did. It is also another ideal spot to buy some souvenirs, with locals have stall nearby selling this pure pink salt.
Finally, we drive to Ollantaytambo town to catch the train to Aguas Calientes (Machu Picchu town). We stop at a carefully selected restaurant for dinner before checking into our hotel for an exciting day ahead.
Meals: Breakfast – Lunch – Dinner
Accommodation: Ferre Hotel or similar
Distance: 9kms/ 6 miles
Time: 4 hrs approximately
Difficulty: Moderate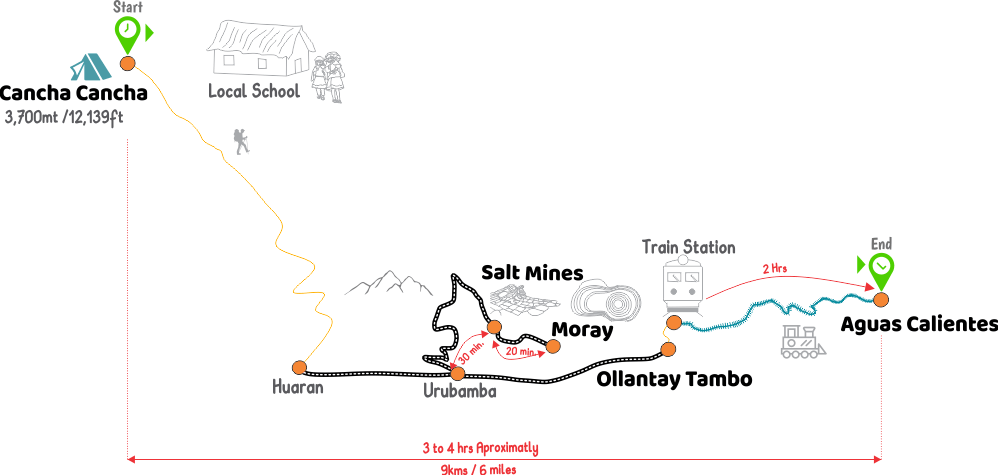 Day 4: Aguas Calientes – Machu Picchu – Cusco
The day has come! After an early breakfast at your hotel, we are ready to get an early bus at 5:30am up to Machu Picchu just in time to witness the sunrise. It is a truly mystical site out of history you'll not want to miss! After enjoying the sunrise your guide will provide a 2-hour guided tour of Machu Picchu. Our guide will take you to the most important sites and explain the history of each section of the ruins. You will learn about the Temple of the Sun, Temple of the Condor, Temple of Three Windows, the House of Inca and much more! If you booked ahead of time, you may have the opportunity to do an extra hike after your tour!
When we are all set, we will board the bus down to Aguas Calientes to have lunch (not included). There are many good restaurants in Aguas Calientes that you may choose from. We will be boarding the train which departs from Aguas Calientes at 14:55 or 15:20 to Ollantaytambo. At the exit from the train station, your driver will meet you to take you in our private transportation back to Cusco, arriving approximately 7:00pm at your hotel.
Meal: Breakfast
Difficulty: Easy
Extra Hikes
Huayna Picchu, the 'Young Mountain' in Quechua is the most well known for being part of the vast majority of the panoramic photos of Machu Picchu citadel. Climbing Huayna Picchu, you may see some archaeological sites, including the Temple of the Moon built in a natural cave. At the top of Huayna Picchu, there are small terraces and some buildings that were a part of an astronomical observatory and is a point of guardianship to the citadel.
Machu Picchu Mountain is above the Sacred City of Machu Picchu with breathtaking views of Machu Picchu, a unique sight like no other place in the world. The Quechua name translates to 'Old Mountain.' Machu Picchu Mountain's summit was used by Inca priests to perform rituals high above their sacred citadel!

Please read the following information carefully; it will help with your questions about our services and the Lares trek to Machu Picchu.
ARRIVAL TO CUSCO
We will pick you up from the airport in Cusco and take you to your hotel. Please let us know your flight details at least 14 days before arrival. Our representative will be holding an orange sign reading ORANGE Nation outside the arrivals. You must exit the terminal to find our representative as they cannot enter. (Please let us know if your hotel is in the Sacred Valley so we can make the necessary arrangments).
THE BRIEFING FOR THE LARES TREK TO MACHU PICCHU
It will take place the night before the trekking departure at 6pm at our office which is located at Garcilaso Street 210 , Office Nº:213 (2nd Floor) in the la CASA DEL ABUELO shopping center.
CAN I STORE MY LUGGAGE AT YOUR OFFICE?
ABSOLUTELY! During the Lares trek to Machu Picchu your main luggage can be stored at our office or at your hotel, both are free.
HOW TO BOOK THE LARES TREK TO MACHU PICCHU
FIRST, to book your Lares trek to Machu Picchu, we need you to fill out our booking form by clicking on BOOK NOW on our homepage or click here – BOOK NOW.
Please be ready with the following information (FROM EACH PARTICIPANT in your group).  We cannot purchase an Lares trek Machu Picchu permit without the following information:
Personal information (your full name, exactly as it appears on your passport):
Gender
Passport number
D.O.B. (dd / mm / yyyy)
Nationality
SECOND, we require a deposit of $211.00 USD per person in order to purchase a permit for the Lares trek Machu Picchu.  You can make you deposit by clicking on the PAYPAL symbol on the top of our home page, or you can click on the PAYPAL symbol on our booking page.
WHAT ABOUT THE BALANCE?
It would be greatly appreciated if you pay in cash at our office (US dollars or Peruvian soles) here in Cusco. We have many ATMs within the historical center to withdraw money. You can also pay by PAYPAL online but you will have to pay a 5.5% service charged by PAYPAL. To pay your balance through PAYPAL. you need to log into your PAYPAL. account using our email address of orangenationperu@gmail.com.
HOW DO I QUALIFY FOR THE STUDENT DISCOUNT?
According to Peruvian Law, you must be under 18 years of age at the time of your trek, tour, or visit to Machu Picchu (students 18 & above need student cards). For example: if you book a trek at the age of 17 but you turn 18 before you do your trek, you do not qualify for a student discount.
All students from 11 to 17 years, the discount is $30.
For children from the age of 2 to 11 the discount is $40.
Children under the age of 2 are free.
All students must provide a copy of their passport at the time of their booking to get the student discount.
Send us a copy at oragenationperu@gmail.com
MAY I CHANGE THE DEPARTURE DATE AFTER THE TICKETS HAVE BEEN BOUGHT?
Yes, but with some restrictions. Once the tickets for Machu Picchu have been bought the government does not allow any changes, so we can't change any departure dates. Tickets are not transferable nor refundable. Please contact the office as soon as possible if you need to change your date. If you cancel your Lares Trekking to Machu Picchu, the deposit is non-refundable!
DO I NEED MY ORIGINAL PASSPORT?
Yes! You have to bring your original passport and it is very important that it is the same passport number you sent to us to book your Lares Trek Machu Picchu, other entrances and reservations. In case you are renewing your passport or changing your name, go ahead and send us your old passport information to secure your permit, and we can change it when you get your new passport number or updated your name for a fee of $25 USD per person. We must have a copy of your old and new passport to make the change. Before you change your passport keep a copy of your old one.
If you do not wish to pay this fee you will need to bring both passports to Peru with you. You can enter Peru with your new passport but you will need to show both passports, old and new to be to enter Machu Picchu or the train. If you do not have both you will not be allowed to enter the Inca Trail, Machu Picchu or get on the train.
Remember to check your current passport to make sure it doesn't expire within 6 months of your arrival to Peru!!! The Government of Peru is enforcing the existing law that requires all foreign travelers to have a passport valid for a minimum of six months past the time of entry into Peru. Peruvian authorities will deny entry into Peru for travelers not meeting this requirement.
WHAT ABOUT ALTITUDE SICKNESS?
For some visitors, the first hours in Cusco can be summarized as: shortness of breath, a discomfort in the body, dizziness, headaches, stomachaches, even vomiting. As great connoisseurs of natural medicine, the Incas used coca leaves to counteract soroche, quechua for high-altitude sickness.
Don't do anything other than rest
If you travel from Lima to Cusco, the effect can be immediate. This lack of oxygen, scientifically known as hypoxia, begins to manifest itself at 7,874 ft (2,399 m) above sea level. That's why right after landing in Cusco, visitors can feel fatigued and have difficulty walking. It is advisable to take it really easy on the first day and, if possible, rest the first few hours to help the body acclimatize to the altitude.
Stay hydrated
How do people feel after a night of drinking? Thirsty. That's how you'll feel when you arrive in Cusco. As already stated, the body dehydrates quickly in high altitudes. It is recommended you drink lots of water before and during your trip to Cusco. Also, avoid heavy meals since your stomach takes longer to digest food at high altitudes. A diet of low proteins and high carbs is advisable.
Discovering coca
No one knew better the effects of high altitude than indigenous peoples. Coca is the best natural medicine to combat altitude sickness. It was even considered sacred because of its curative powers and is still used in the same way now as it was in the time of the Incas. It contains iron, vitamins A, B1, B2 and calcium, among other nutrients. Coca makes it easier for your bloodstream to absorb oxygen, suppresses hunger, combats fatigue, headaches and can ease your stomach. Try drinking coca tea, which is found in the lobbies of most hotels in Cusco.
HOW MANY PEOPLE ARE THERE PER GROUP?
The maximum group size is 8 people. Our groups are usually between 2-6 people. Orange Travel Peru specializes in SMALL, PRIVATE groups and provide a personalized service.
HIKING LARES TREK TO MACHU PICCHU
During youe briefing the evening before, we give you a SMALL DUFFEL BAG to pack your clothes for the next four days. Your weight allowance is up to 7kg/14p. Your team of pack horses will carry your duffel bag for you, together with the food and camping gear. It's important to be aware, that you will not have access to your items in the duffel bag until the end of each day, as the pack horses will always be ahead of the group. During the trek, you need a day backpack big enough to carry your personal belongings such as a warm jacket, a rain jacket, your camera, sunscreen, snacks, water, etc. A 30 to 50L backpack is sufficient.
IS THE LARES TREK TO MACHU PICCHU DIFFICULT, DO I NEED TO BE FIT?
The Lares trek to Machu Picchu is a 39 km hike through the Andes in the Cusco region. The maximum altitude reached is (4,700m/15,419ft). On the second day of the trek, we climb two mountains. The trail is a fairly difficult trek , you should prepare well and be reasonable healthy prior to starting it. We also recommend that you are moderately fit and exercise regularly.
In preparation: try walking 15kms a day or go to the fitness club in the months leading up to the trek. It is also important to be well acclimatized to the altitude. Try to spend at least 2 or 3 days in Cusco (3350m/11,047ft) prior to starting the trek.
ARE THERE TOILETS ON THE LARES TREK TO MACHU PICCHU?
It has been highlighted by most of our clients, especially by female trekkers who want a private, clean and sanitary toilet!! ORANGE Nation Peru toilet facilities have an individual tent and a "camping toilet with a seat." Check out the picture, which illustrates how we set up our camping toilet on the trek by using this link: picture of toilet tent. Our toilet is always set up a comfortable distance from our campsite. At night if you need to use the toilet it is readily accessible and clean.
There are hot showers and hot water pools to soak in and relax on the 3rd day of your trek at the Lares Hot Springs. Be sure to bring your bathing suit.
WHAT HAPPENS IF I AM UNABLE TO FINISH THE LARES TREK TO MACHU PICCHU?
In the unlikely scenario that you are unable to finish the trek due to a health issue, ORANGE Nation Peru will assist you to the nearest town for help with transportation. We always carry oxygen on the trek for any respiratory problems In extreme cases, a helicopter pick up can be arranged at your own expense. (Travel insurance required). There are no refunds in the unlikely situation that you are unable to finish the Lares trek to Machu Picchu.
Generally those who have to be assisted off the trail are taken to Ollantaytambo and if they recover quickly, they then continue the journey to Aguas Calientes (cost incurred by trekker) and visit Machu Picchu according to original plan.
ARE WE GOING TO BE DROPPED AT OUR HOTEL?
Absolutely!! Included in the package and on the last day we will drop you at your hotel! If you have booked your hotel in the Sacred Valley like Ollantaytambo or Urubamba, we will drop you there too! If you spend the night at Ollantaytambo before the trek, for sure we wil pick you up there !
AT WHAT TIME IS THE TRAIN DEPARTURE?
It will depend on the train availability (high season it could book out) but the idea is to give you as much time as possible in Machu Picchu and enjoy the amazing views on the way back to Cusco from the train. Therefore you we usually book the train at 14:55 or 15:20.
VISTADOME TRAIN UPGRADE; HOW MUCH IS IT?
The upgrade to Vistadome train which has slightly nicer seats, panoramic windows and ceiling. You will be offered some snacks and a dance show will take place on board. The price is $57 USD per person which includes the transfer from Poroy train station to your hotel in Cusco. It is 2 hours by train from Aguas Calientes to Ollantaytambo and then another 2 hours from Ollantaytambo to Cusco by bus. If you upgrade to Vistadome, all the way back to Poroy (Cusco), the trip lasts 3.5 hours, then 25mins by taxi to your hotel. Usually our clients are back at the hotel by 8pm. If you plan to take the bus to Puno on the same night, that is totally possible.
TIPPING
If you're happy with the services provided, a tip – though not compulsory – is appreciated. While it may not be customary in your country, it's of great significance for the people who will take care of you during the Lares trek Machu Picchu. It inspires them to give excellent service and is an entrenched feature of the tourism industry across many ORANGE NATION destinations. Of course you are free to tip as much as you feel appropriate, depending on your perception of the quality and the length of your trip. Remember, a tip is not compulsory and should only be given when you receive excellent service.
ARE WE SUSTAINABLE?
Yes, we are a local, sustainable & responsible tourism operator for that we incorporate the universal principles of tourism: protect the environment and benefit the local communities by respecting their culture and religion. With this in mind, we have trained all our local staff to know and understand, respect the places and the local people.