This fantastic Short Inca Trail & Rainbow Mountain Trek Package covers the last section of the Classic Inca Trail and takes you into Machu Picchu by walking through the Sun Gate, followed by the amazing trail to the world renowned Rainbow Mountain!
Two amazing trails that take you to the two most spectacular places in the world, Machu Picchu and Rainbow Mountain respectively. Follow the "Ancient Inca Road" through lush subtropical vegetation, cloud forest. expansive mountain vistas and extraordinary ecological varieties. Enter through the Sun Gate for the most jaw dropping views of Machu Picchu.
On your penultimate day, hike to an amazing and eye-catching freak of nature that is Rainbow Mountain. Join the millions that have followed the path to this stunning piece of nature. Both hikes offer added hikes for even further discovery. From Machu Picchu hike to the top of Huayna Picchu Mountain for panoramic view of the citadel and its landscape. Also, venture to Red Valley from Rainbow Mountain to discover Mars right here on earth.
ITINERARY for the 2 Day Inca Trail & Rainbow Mountain Trek Package
DAY 1: ARRIVAL TO CUSCO
We welcome you to the Imperial City of Cusco that sits at 3 400m / 11 155ft above see level. Cusco will take your break away in more than one way. So, it´s good idea to spend the day relaxing and acclimating to the high elevation. Also, explore the architectural wonder that is its historical center. Spending time in its picturesque Plaza De Armas or bohemian neighborhood of San Blas. Try out some alpaca apparel, local Andean Cuisine or just a cup of coffee made from the original bean of Cusco.
3* Accommodation: Maytaq Wasin or Waman Hotels
4* Accommodation: Costa del Sol Ramada, Casa Andina Private Collection or Novotel Hotels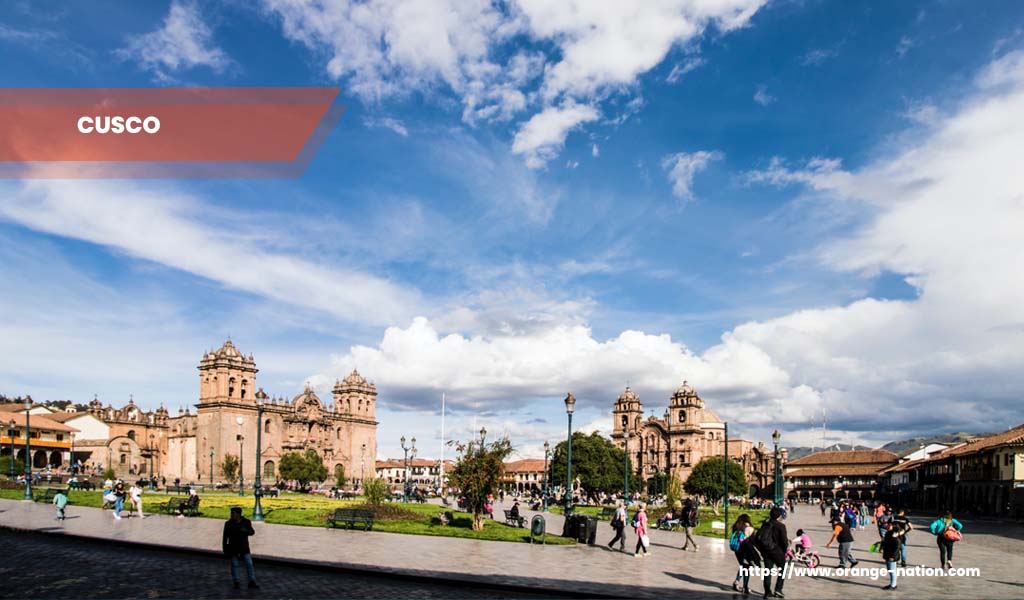 DAY 2: CUSCO – OLLANTAYTAMBO – Km104 – WIÑAY WAYNA – SUN GATE – MACHU PICCHU
Get ready for early 4am pick up for a scenic drive to the train station in Ollantaytambo. We arrive in time for a quick takeaway cup of coffee and breakfast (not included) before catching the 6:10am train to KM104. Upon arrival at the trail head, we stopover to prepare for the hike ahead, apply sunscreen, insect repellent and pack away our box lunches.
You get off the train at the famous Km104, where your trek begins! (2,000m/6,560 ft. above sea level). After crossing the Urubamba River on a picturesque foot bridge, you will show your passport at the checkpoint and visit your first Inca site nearby. The first hour and a half are a gentle upward climb. Along the way, you will stop at several outlooks where you have an expansive view of the Urubamba River. You also pass through several microclimates, including cloud forest, so be ready for damp or even rain at any season of the year. The next hour and a half are a slightly steeper uphill with a beautiful waterfall as your reward at the end of the hike!
Once you cross over the bridge, we start a steep incline to the spectacular Wiñay Wayna! (2,600m/8,500ft above sea level). From here the views of the valley are stunning. Also, explore this well preserved site that was only rediscovered in 1942. We stop at a covered shelter at the Wiñay Wayna campground for our delectable box lunch. This is the point were the Short Inca Trail and the Classic Inca Trail intersect. Take the opportunity to use the restroom, the sinks and enjoy the incredible flora and fauna of this subtropical microclimate that's close to the jungle. Let us know of any food allergies or dietary restrictions at booking.
After lunch, you have an hour long walk that gently rolls up and down. Just before reaching the Sun Gate, you climb a steep set of steps known as the Gringo Killer steps. Goin through the Sun Gate you have your first jaw dropping view of the UNESCO world heritage site, the great Machu Picchu. So, take some time to savor the moment and take photos. The last 60 minutes down from the Sun Gate provide many opportunities to take more photos of Machu Picchu from this unique vantage point. There are also a couple more important Inca sites between the Sun Gate and Machu Picchu, so make sure to go slowly, enjoy your time walking in the footsteps of the Inca on the Inca Trail and ask your guide questions about these historical places on the last bit of your hike to Machu Picchu.
Once you reach Machu Picchu, you will have time to take more photos from the viewing platform above the site (Guard House), where you can take the famous postcard pictures of Machu Picchu. You will arrive in the afternoon, as the archeological area starts to empty of tourists, which gives you the opportunity to take beautiful photos in the afternoon light with fewer people in your shots. Take your time to enjoy this magical experience before you take the bus down to Aguas Calientes to check into your hotel. You will have a delicious dinner, followed by some time to walk around this picturesque little town, visit the hot springs or just go to your hotel to rest after such an exciting day.
Meals included: Box lunch and dinner in Aguas Calientes
Accommodation: 3* Ferre Hotel Machu Picchu
Difficulty: Moderate.
You will leave an overnight bag at the Ollantaytambo train station to be sent by train directly to Aguas Calientes.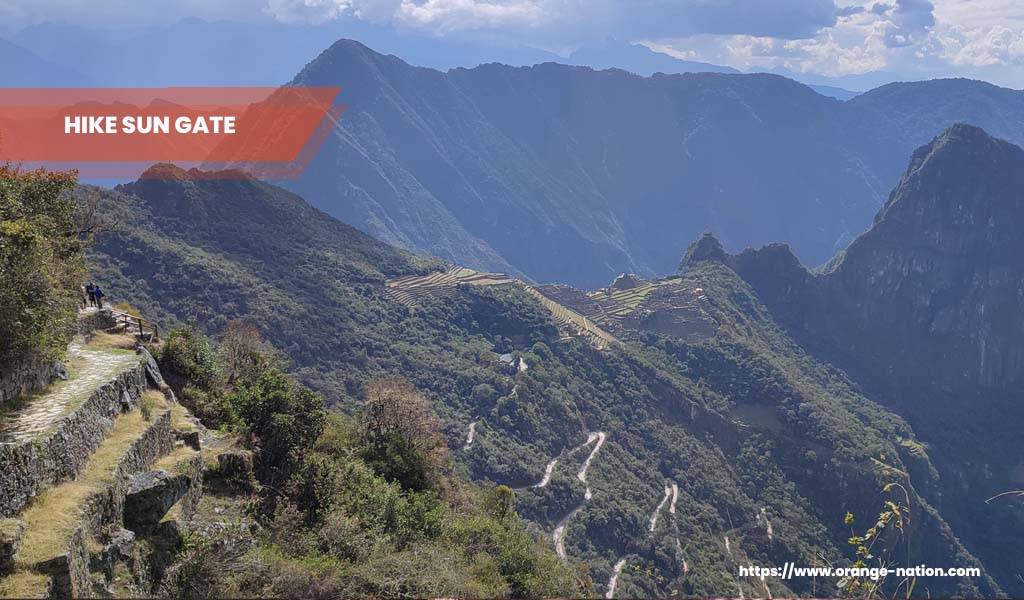 DAY 3: AGUAS CALIENTES – MACHU PICCHU – CUSCO
This is the day you've been waiting for! After an early breakfast at your hotel, you'll take one of the first buses up to Machu Picchu so that you can be there to witness the sunrise. It is a truly extraordinary site and not something you'll want to miss! Your guide will give you a guided tour of Machu Picchu, which takes about two hours. You will see many of the most important parts of Machu Picchu Citadel.
After your tour, those who have booked in advance for an extra hike up Huayna Picchu will have time to enjoy those views on their own. When you have had your fill of the exceptional views of Machu Picchu, you will take the bus back down to Aguas Calientes for lunch (not included). Depending on your train departure time, you may also have time for some shopping, sightseeing or a visit to the museum or hot springs.
The Expedition train will take you back to Ollantaytambo at 2:55pm or 3:20pm, following the spectacular Urubamba River. Close to Aguas Calientes, the canyon is narrow and the river has many beautiful sections of whitewater. You can also see Wiñay Wayna from the train, if you look up high on the steep canyon wall! Back in Ollantaytambo, your driver will meet you at the exit from the train station to take you back to your hotel in Cusco in our private vehicle. You can expect to arrive at your hotel by 7:00pm.
Meals included: Breakfast at your hotel
Hotel: 3* Maytaq Wasin or Waman Hotel
***IMPORTANT:
On the 2 day Inca Trail, we will be doing the circuit #3 and there is no way to do another circuit unless you buy an additional entrance to Machu Picchu.
You can upgrade to the Vistadome Train for the same times, 2:55pm or 3:20pm, 4:22pm, or 4:43pm. The cost is $67 USD.
Early trains can be organized by requested and it has to be done by booking time.
The Huayna Picchu Mountain Hike depends on availability and let us know about it at booking time.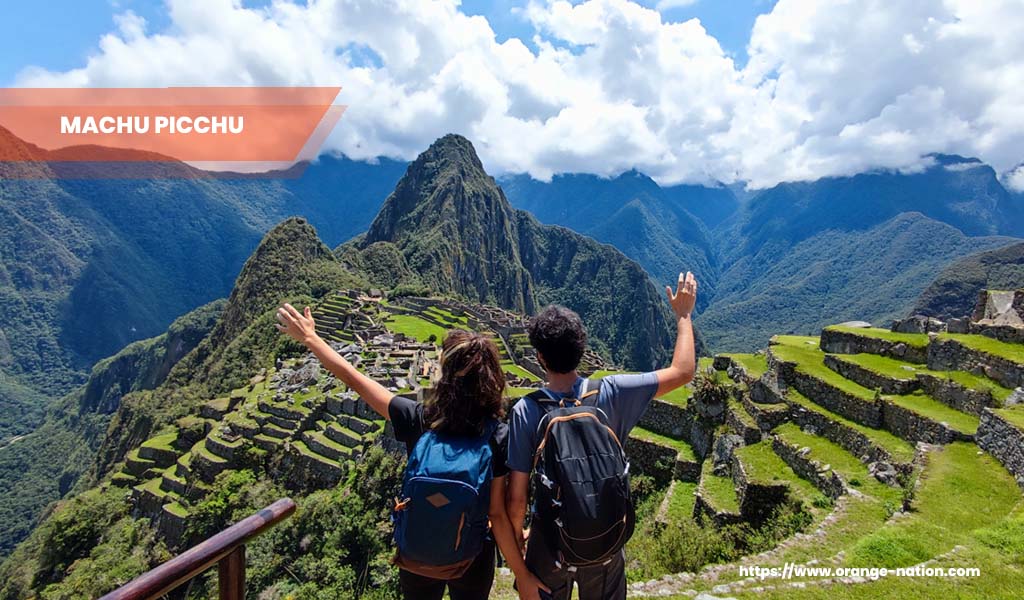 DAY 4: CUSCO – RAINBOW MOUNTAIN – CUSCO
We will pick you up from your hotel at 4am, and begin with our amazing Rainbow Mountain Trek Adventure. We set out on our drive for 3 hours through the South Valley; ending up at the trailhead at Llacto (4,638m / 15,216 ft). Along the way, there are amazing views of farming Inca terraces, traditional villages, valleys and high Andean peaks.
The herds of alpacas and llamas near your breakfast place will entertain you in the early morning. As you start your hike, you will have views of the Ausangate Mountain and other glaciers. You can interact with the local people, who are still keeping traditional Quechua culture alive. Learn about their traditional clothes and the significance of the different hats worn by the men. Ask your guide to teach you a few phrases in Quechua!
After a total hike of 1.5 hours, we finally reach our destination: the Rainbow Mountain (5,020m /16,466ft). After admiring the unique beauty, you will have time to explore the area. You can take pictures or just soak up the view. Afterwards, there is an optional hike across to the top of the Red Valley. This walk takes about 45 minutes longer to get back to the trailhead.
At this point, we hike back down the way we came. The hike takes 1 hour, then we enjoy our lunch which will prepare by our cook.
We will embark on the 3-hour drive back to Cusco and drop you off at your Cusco hotel, arriving around 6:00pm.
Meals included: hot breakfast & lunch
Difficulty: moderate to challenging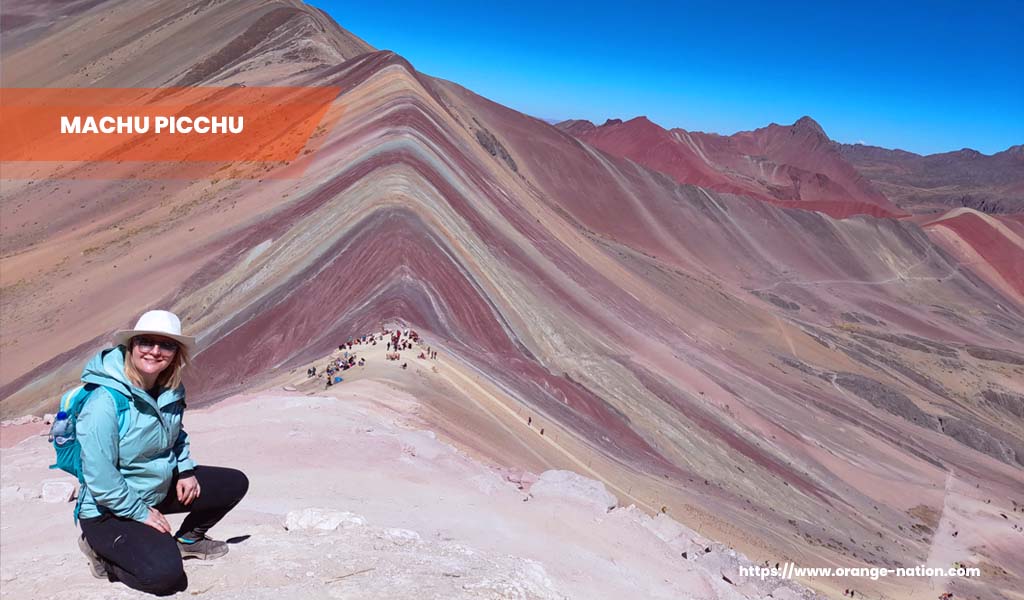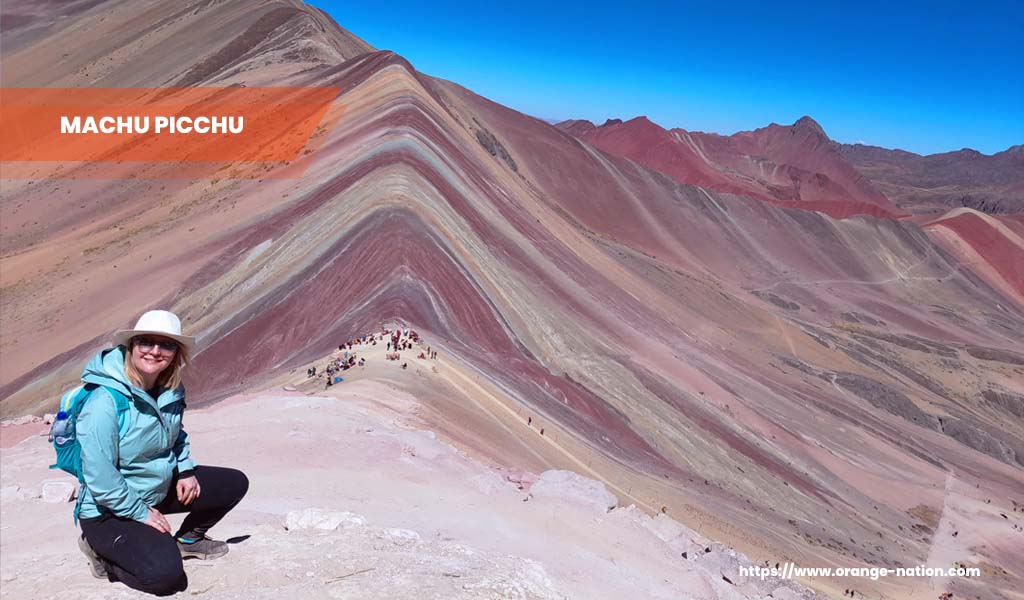 DAY 5: BACK HOME.
At any time, we will drive you back to airport for you flight back home or next destination. Coordinate your departure times with the office.
End of our service.
***The 2 Day Inca Trail & Rainbow Mountain Trek Package is available on any date that its best for you (except February when it is closed for maintenance). Join in with our group and get the best deals.
PRICES:
$??USD per person without hotels
$?? USD per person with 2 nights 3* hotels
$?? USD per person with 2 nights 4* hotels
***Private service is available for $150 USD more per person.
***All entrance fees are included and we operate our tours in small groups averaging 5 people with a maximum of 8!
DISCOUNTS
18 to 25 years old: $30 USD. Information required on student card: name of university, student name, photo of student, expiration date etc. A copy of the card is required at booking for government approval of discount.
Under 18 years old: $30 USD. Please send us a copy of your passport at the time of booking.
Under 11 years old: $40 USD. Please send us a copy of your passport at the time of booking.
Huayna Picchu Mountain: $75 USD per person
Vistadome: $67 USD per person
Hotel single supplement: 3* $40 USD
**Huayna Picchu Mountain is a optional trek within Machu Picchu Citadel which do not include a guide. The climb is usually done on your own after your tour of Machu Picchu Citadel. If you would like the extra hike to be guided, please request in advance. There is an extra cost for this extra guided tour.
IMPORTANT INFORMATION
Please read carefully the following information; it will help you answer all of your questions about our services and 2 Day Inca Trail & Rainbow Mountain Trek Package
THE BRIEFING
The briefing will take place the night before the trek at 6pm in our office, which is located at Calle Garcilaso 210, office 213 (second floor) in the La CASA DEL ABUELO shopping center.
CAN I STORE MY LUGGAGE AT YOUR OFFICE?
Of course! During the Sacred Valley & Short Inca trail to Machu Picchu Package your main luggage can be store at our office or at your hotel, whichever is more conveninet for you.
HOW TO BOOK
FIRST, to book your Short Inca Trail & Rainbow Mountain Trek Package, we need you to fill out our booking form by clicking on BOOK NOW on our homepage or click here the link BOOK NOW.
Please be ready with the following information (FROM EACH PARTICIPANT in your group). We cannot purchase an Inca trail permit, entrance to Machu Picchu or the train without the following information:
Personal information (your full name, exactly as on your passport):
Gender
Passport number
D.OB. (dd / mm / yyyy)
Nationality
SECOND, we require a deposit of US$200.00 per person in order to purchase a your Inca Trail permit, entrance to Machu Picchu and train ticket. You can make you deposit by clicking on the VISA or PAYPAL symbols on the top of our home page, or you can click on the VISA or PAYPAL symbols on our booking page or click here on the payment method of your choice, either VISA or PAYPAL.
WHAT ABOUT THE BALANCE?
If you would like to avoid the high credit card fees in Peru, you may pay in cash at our office (US dollars or Peruvian soles) here in Cusco. There are many ATMS within the historical center to withdraw money. You can also pay by VISA or PAYPAL online but you will have to pay a 5.5% service fee, charged by VISA and PAYPAL. To pay your balance through PAYPAL, you need to log into your PAYPAL account and use our email address samtravelperu@gmail.com.
MAY I CHANGE THE DEPARTURE DATE AFTER THE TICKETS HAVE BEEN BOUGHT?
Unfortunately the answer is no. Once the tickets for the Inca Trail have been bought the government does not allow any changes, so we can't change any departure date after the tickets has been bought. Tickets are also not transferable nor refundable.
*** If you cancel your 2 Day Inca Trail & Rainbow Mountain Trek Package, the deposit is not refundable at all!
DO I NEED MY ORIGINAL PASSPORT?
Yes for sure! You have to bring your original passport and it is very important that it is the same passport number you sent to us to book your entrance to Machu Picchu, train ticket, other entrances and reservations. The rangers will check when you enter Machu Picchu. The train company will also check your passport before allowing you to board the train.
In case you are renewing your passport or changing your name, go ahead and send us your old passport information to secure your permit, and we can change it when you get your new passport number or updated your name for a fee of $25 per person. We must have a copy of your old and new passport to make the change. Before you change your passport keep a copy of your old one.
If you do not wish to pay this fee you will need to bring both passports to Peru with you. You can enter Peru with your new passport but you will need to show both passports, old and new to be to enter into Machu Picchu or the train. If you do not have both you will not be allowed to enter into Machu Picchu or get on the train. They are very strict about this here!!
TIPPING
If you're happy with the services provided, a tip – though not compulsory – is appreciated. While it may not be customary in your country, it's of great significance for the people who will take care of you during the tour. It inspires excellent service and is an entrenched feature of the tourism industry across many SAM Travel Peru destinations. Of course you are free to tip as much as you feel appropriate, depending on your perception of the quality and the length of your tour. Remember, a tip is not compulsory and should only be given when you receive excellent service.
ARE YOU SUSTAINABLE?
Yes, we are a local sustainable & responsible tourism operator for that we incorporate the universal principles of tourism: protect the environment and benefit the local communities respecting their culture and religion. With this in mind, we have trained all our staff to know, understand and respect the local places and its people.
The Sacred Valley & Short Inca Trail to Machu Picchu Package does not include extra porter. Tou will need to carry all your things. Please try to pack as light as possible which is the key to enjoy this amazing trek.
What you have to take with you for the Short Inca Trail & Rainbow Mountain Trek Package?
In your daypack for the Short Inca Trail, you should have:
Original Passport (it has to be the same you have used for booking your trek)
Good daypack (the smaller, the better)
Water storage: 2-3 litre Camelbaks are encouraged.
Comfortable hiking boots with ankle support
Toilet paper
Jacket if cold season
Waterproof gloves – rainy season
Sun hat
Sunscreen
Insect repellent
Wool hat if cold season
Rain gear – rainy season
Snacks like chocolate bars, cereal bars or any dry fruit
Rain poncho
Camera
Extra money for souvenirs, drinks & tips
Valuables
In your duffel that will be sent by train from Ollantaytambo to Aguas Calientes:
A change of clothes for visiting Machu Picchu the next day
Personal toiletries
Personal medications
Battery chargers