Itinerary
DAY 1: CUSCO CITY TOUR
This afternoon, we will Tour the Imperial City of Cusco, a living museum with a mix of Andean and Spanish culture. You will visit the Cusco Cathedral, which was completed in 1560 after nearly 100 years of construction and the Koricancha, the ancient Inca Palace and the main worship center of the Sun God, which was once filled with gold until plundered by invaders. Our tour continues to the unmatched and mesmerizing archaeological site of Sacsayhuaman fortress and its military Inca architecture, which dominates the city and is constructed with 100 ton boulders not native to the area. (A Mystery) Finally, we explore the archaeological sites of Qenqo, Pucapucara and Tambomachay before heading back to your hotel in Cusco by early evening.
Accommodation: Waman or Mataq Wasin Hotels 3*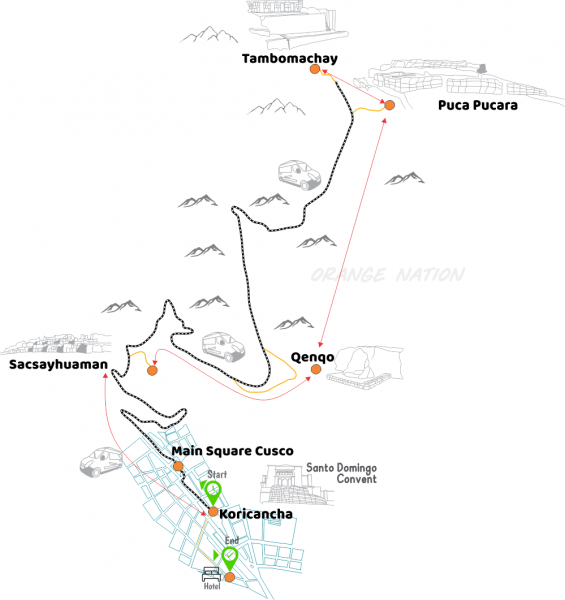 DAY 2: CUSCO – SACRED VALLEY (PISAC – MORAY – SALT MINE – OLLANTAYTAMBO) – AGUAS CALIENTES
We pick you up from your hotel at 7:30am with our private van and head to the Sacred Valley of the Incas, taking the route to Pisac. Our first stop is the Ccochahuasi Animal Sanctuary, which has a variety of Peruvian animals including Pumas, Condors, the national bird of Peru, llamas and more. Then, we stop at the mirador of Taray to enjoy a beautiful overhead view of the Urubamba valley, which accents the surrounding mountains. Next, we head to the Pisac archaeological site, where you can see the biggest Inca cemetery with more than 2,000 tombs. There, we can admire the hand carved farming terraces on the side of the Mountain, explore the Inca tunnel and the religious site of this important Inca ruin. Here, we will spend approximately 2 hours, exploring the Inca city. Then, we visit the colorful Pisac Market which is the largest Market in the area, spend a little time visiting it to see the different handicrafts before driving to Urubamba for lunch.
After lunch we visit Moray, which was an experimental farming site built in the form of an ampitheatre which each level naturally with a different temperature to grow different types of crops. These levels of terraces were carved before the Incas and then used by the Incas.
We continue our journey to the colonial town of Maras, walking downhill to the pre-Inca salt mines. Over three thousand salt ponds have been used for salt extraction since before Inca times and still supply Peru with over 90% of it's salt. A hot spring at the top of the valley trickles a stream of salty water, which is diverted into salt ponds and evaporated to produce a salt that is used for human consumption. Finally, we drive to Ollantaytambo, having time to explore this quaint, traditional Inca village and the amazing Inca Ruins with our English-speaking guide.
Then at 7pm, we will take the train to Aguas Calientes where we will spend the night in a hotel.
Accommodation: Wiracocha Inn Hotel or Andean Terra Hotel
Meals: Breakfast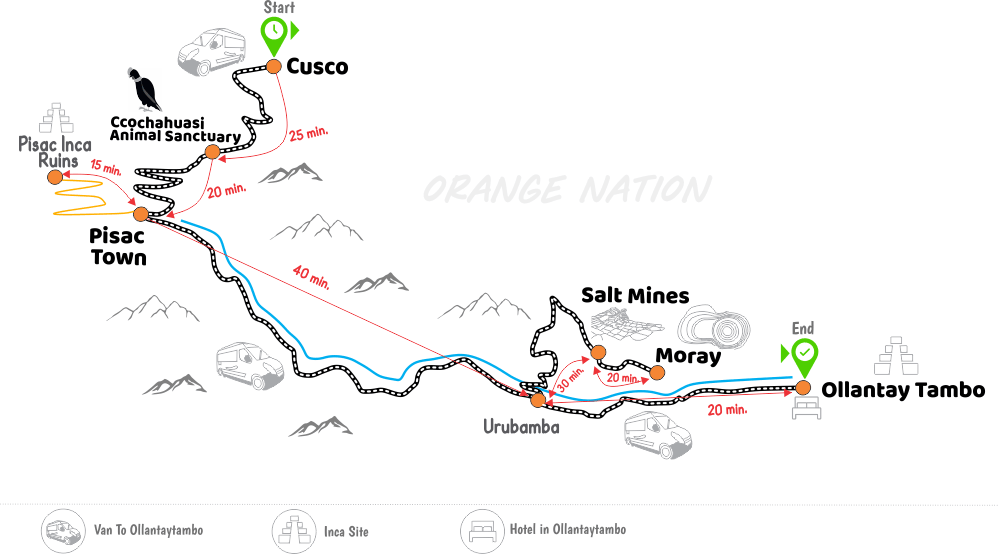 DAY 3: AGUAS CALIENTES – MACHU PICCHU – CUSCO
On this very exciting day, we will take the 5:30am shuttle bus to Machu Picchu, arriving in time for the sunrise over Machu Picchu. Our guide will give us a 2.5-hour private tour, teaching us the history and little secrets hidden away by the Incas who once resided there. Then, you have plenty of time to explore on your own until 12 noon.
Here are some other activities you can do on your own:
Climb Huayna Picchu or Machu Picchu Mountain and enjoy the amazing views of Machu Picchu from above. (Additional fee)
Walk to the Sun Gate, 2 hours round trip or the Inca Bridge, 1 hour round trip. (No additional fee)
Other optional activities in Aguas Calientes include a visit to the new local museum or to the hot springs. (Entrance fee to enter)
Around 12 noon, we will depart Machu Picchu and descend to Aguas Calientes at 12pm. You can have a relaxing lunch and explore Aguas Calientes beforing boarding the Expedition train by 4:22pm returning to Ollantaytambo Train Station and then we will drive you 1.5 – 2 hours back to your hotel in Cusco, arriving at approximately 8:30pm.
Accommodation: Waman or Mataq Wasin Hotels 3*
Meals: Breakfast
***There are now 2 sessions to enter Machu Picchu; 6am to 12pm and 12pm to 5:30pm. If you wish to stay after 12pm, you must purchase a second entrance ticket. If you book Huayna Picchu, you have an extra 2 hours and an extra 3 hours if you hike Machu Picchu Mountain.

DAY 4: CUSCO – RAINBOW MOUNTAIN – CUSCO
We will pick you up from your hotel foyer at the delightful hour of 4am and begin our incredible Rainbow Mountain Trek Adventure. We set out on our 3-hour scenic drive through the South Valley, there are amazing views of farming Inca terraces, valleys and rocky mountains.
Once we reach the trail-head (beginning of the Trail), we have a hot breakfast before beginning our hike along a flowing stream. You will be impressed by the herds of alpacas and llamas all around you. You will have continuos views of the Ausangate Mountain as we hike through different villages and interact with the indigenous people, who are still living in their traditional means.
We reach our destination – the Rainbow Mountains (5,020m /16,466ft) after a short 1.5 hour hike. After being awed by their beauty, you will have time to explore the area. You can take pictures and savor the environment. We will spend approximately 30 minutes at the top.
At this point, we hike for another 1.5 hours back down the way we came . Our private van will be waiting for us when we return.
We will begin our scenic 3-hour drive back to Cusco and drop you off at your Cusco hotel, arriving around 5:00pm – 6:00pm, depending on how fast you hike and how long you wish to stay at the Rainbow Mountain site.
Meals: hot breakfast & lunch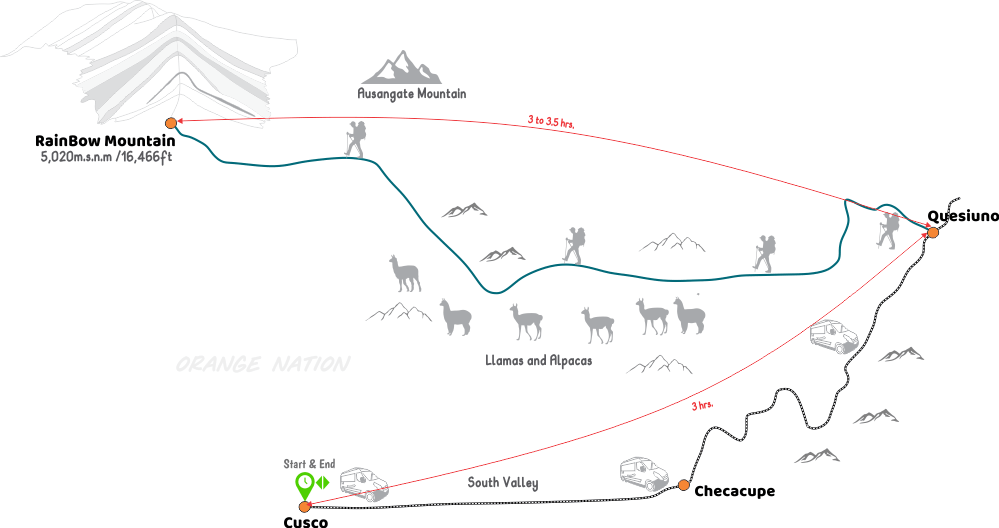 Inclusions
WHAT IS INCLUDED?
Pick up at your hotel
Tours of Cusco, Sacred Valley, Machu Picchu
Rainbow Mountain trek
Entrances to the Inca Cities and all Archeological Sites
Private transportation for all tours
Round Trip Expedition Train Ollantaytambo – Aguas Calientes
Hotel accommodation with breakfast in Ollantaytambo, Aguas Calientes, Cusco
Meals as indicated on itinerary
Roundtrip bus ticket Aguas Calientes – Machu Picchu
Entrance fees to Machu Picchu
Professional English & Spanish speaking guide
2 hot meals – breakfast and lunch at Rainbow Mountain
WHAT IS NOT INCLUDED?
Meals not indicated on the itinerary
Entrance fee to the hot springs of Aguas Calientes (optional)
Entrance of Wayna Picchu –$35 USD
Entrance to Machu Picchu Mountain –$30 USD
Upgrades train/hotel – For Vistadome train add $57 USD per person
Tips for your guide
Price
This Cusco to Machu Picchu and Rainbow Mountain Tour can be done on any date as long as we have a minimum of 2.
| | |
| --- | --- |
| No. OF PEOPLE | PRICE |
| 2 to 8 people (with 3 nights hotel) | $ 807 USD per person |
| 2 to 8 people (without hotel) | $ 677 USD per person |
***All entrance fees are included and we operate our tours in small groups averaging 4 to 5 persons with a maximum of 8!
DISCOUNTS
Under 18 years old:$30 USD. Please send us a copy of your passport at the time of booking.
Under 11 years old:$40 USD. Please send us a copy of your passport at the time of booking
EXTRAS
Huayna Picchu Climb:$35 USD. This will need to be booked in advance, let us know about it at the time of booking.
Machu Picchu Mountain:$30 USD. This will need to be booked in advance, let us know about it at the time of booking.
Upgrade to Vista Dome Train:$57 USD. (Aguas Calientes to Poroy at 4:43pm)
Upgrade Hotel – 3 star $45 USD. (Can upgrade to 4 or 5 star also)
Single Supplement:$30 USD 2* and $45 USD 3* for single travelers
Important Info
IMPORTANT INFORMATION
Please read the following information carefully to answer many of your questions about our Services, Tours and Treks.
ARRIVAL TO CUSCO
We will greet you at Cusco airport and take to your hotel in Cusco, please let us know your flight details at least 14 days prior to arrival. Our representative will be holding an orange sign reading ORANGE Nation outside the arrival terminal. It can be done on any date!
THE BRIEFING
The Briefing will be the night before the trek at 6pm in our office which is located at Calle Santa Teresa Nº383; 107 (first floor), next to SUBWAY restaurant and across the street from Sunat.
CAN I STORE MY LUGGAGE AT YOUR OFFICE:
ABSOLUTELY! During the Machu Picchu Tour your main luggage can be kept in our office or stored at your hotel, both are free.
HOW TO BOOK THE SACRED VALLEY & MACHU PICCHU TOUR?
FIRST, to book your Machu Picchu Tour, we need you to fill out our booking form by clicking on BOOK NOW on our homepage or click here – BOOK NOW.
We will need the following information (FROM EACH PARTICIPANT in your group). This information is necessary to purchase the entrance tickets to Machu Picchu the train tickets:
Personal information (your full name, exactly as on your passport):
Gender
Passport number
D.OB. (dd / mm / yyyy)
Nationality
SECOND, we require a deposit of $211.00 USD per person in order to purchase your entrance to Machu Picchu and train ticket. You can make you deposit by clicking on the PAYPAL symbols on the top of our home page, or you can click on the PAYPAL symbols on our booking page.
WHAT ABOUT THE BALANCE?
It is best if you pay in cash at our office (US dollars or Peruvian soles) here in Cusco to avoid the additional 5.5% International Transaction Fee. We have many ATMS within the historical center to withdraw money. You can also pay by PAYPAL online but you will have to pay a 5.5% service charge, charged by PAYPAL. To pay your balance through PAYPAL, you need to log into your PAYPAL account using our email address orangenationperu@gmail.com.
HOW DO I QUALIFY FOR THE STUDENT DISCOUNT?
According to Peruvian Law, you must be under 18 years of age at the time of your trek, tour, or visit to Machu Picchu (students 18 & above need student cards). For example: if you book a trek at the age of 17 but you turn 18 before you do your trek, you do not qualify for a student discount.
All students from 11 to 17 years, the discount is $30.
For children from the age of 2 to 11 the discount is $40.
Children under the age of 2 are free.
All students must provide a copy of their passport at the time of their booking to get the student discount.
Send us a copy at orangenationperu@gmail.com
MAY I CHANGE THE DEPARTURE DATE AFTER THE TICKETS HAVE BEEN BOUGHT?
Unfortunately No. Once the tickets have been bought, the government does not allow any changes, so we cannot change any departure date after the tickets has been purchased. Tickets are also non transferable nor refundable. If you cancel your Machu Picchu Tour, the deposit is lost!
DO I NEED MY ORIGINAL PASSPORT FOR THE SACRED VALLEY & MACHU PICCHU TOUR?
DEFINITELY! You MUST bring your original passport with the SAME passport number you sent to us to book your entrance to Machu Picchu, train ticket, other entrances and reservations. They will check when you enter Machu Picchu and to board the train.
In case you are renewing your passport or changing your name, please send us a COPY of your old passport to secure your permit, and we can change it when we receive a COPY of your new passport for a fee of $25 USD per person. We must have a copy of your old and new passport to make the change. Before you change your passport keep a copy of your old one.
If you do not wish to pay this fee you will need to bring both passports to Peru with you. You can enter Peru with your new passport but you will need to show both passports, old and new to enter Machu Picchu or the train. If you do not have both you will not be allowed to enter into Machu Picchu or get on the train.
Remember to check your current passport to make sure it doesn't expire within 6 months of your arrival to Peru!!! The Government of Peru is enforcing the existing law that requires all foreign travelers to have a passport valid for a minimum of six months past the time of entry into Peru. Peruvian authorities will deny entry into Peru for travelers not meeting this requirement.
WHAT ABOUT ALTITUDE SICKNESS?
For some visitors, the first hours in Cusco can be summarized as: shortness of breath, a discomfort in the body, dizziness, headaches, stomachaches, even vomiting. As great connoisseurs of natural medicine, the Incas used coca leaves to counteract soroche, quechua for high-altitude sickness.
Don't do anything other than rest
If you travel from Lima to Cusco, the effect can be immediate. This lack of oxygen, scientifically known as hypoxia, begins to manifest itself at 7,874 ft (2,399 m) above sea level. That's why right after landing in Cusco, visitors can feel fatigued and have difficulty walking. Walking one block could feel like walking ten blocks carrying a backpack full of rocks. It is advisable to take it really easy on the first day and, if possible, rest the first few hours to help the body acclimatize to the altitude.
Stay hydrated
How do people feel after a night of drinking? Thirsty. That's how you'll feel when you arrive in Cusco. As already stated, the body dehydrates quickly in high altitudes. It is recommended you drink lots of water before and during your trip to Cusco. Also, avoid heavy meals since your stomach takes longer to digest food at high altitudes. A diet of low proteins and high carbs is advisable.
Discovering coca
No one knew better the effects of high altitude than indigenous peoples. Coca is the best natural medicine to combat altitude sickness. It was even considered sacred because of its curative powers and is still used in the same way now as it was in the time of the Incas. It contains iron, vitamins A, B1, B2 and calcium, among other nutrients. Coca makes it easier for your bloodstream to absorb oxygen, suppresses hunger, combats fatigue, headaches and can ease your stomach. If you do not feel like chewing leaves (which can be bitter, apart from numbing your mouth), you can try drinking coca tea, which is most commonly found in the lobby of hotels in Cusco.
WHAT IS THE WEATHER LIKE IN THE SACRED VALLEY & MACHU PICCHU TOUR?
The weather is very unpredictable and always changing in the Andes Mountains, so it is difficult to say with any certainty. We recommend that you be prepared for warm weather, possible rain showers (Orange Nation provides rain ponchos) and a warm jacket in case of cold. We recommend that you dress in layers so you may take off or put on clothes as needed.
ARE WE DROPPED AT OUR HOTEL AFTER THE SACRED VALLEY & MACHU PICCHU TOUR?
OF COURSE! We will drop you off at your hotel in Cusco or the Sacred Valley when we return from the tour. We will also pick you up from the Sacred Valley if you are staying there.
TIPPING
If you're happy with the services provided, a tip is appreciated. It means a lot to the staff, and their families, who will take care of you during the tour. It inspires better service and is a major part of the tourism industry across many ORANGE Nation destinations. Of course you are free to tip more or less what you want, depending how you feel about the quality of service and the length of your tour.
ARE YOU SUSTAINABLE?
We are a local sustainable & responsible tour operator which functions according to the ethical principles of tourism: protect the environment and benefit the indigenous communities respecting their culture and religion. We have trained all of our staff to know, understand and respect the local communities and the people living there.
Packing list
WHAT YOU SHOULD BRING
A small backpack or carry bag (larger not allowed on the train or in Machu Picchu)
A change of clothing
Comfortable shoes
Camera
Water to drink
Rain jacket or poncho
A fleece or jacket
Basic toiletries
Sunscreen
Insect repellent for mosquitoes
Hat for the sun
Some extra money for lunch, snacks and souvenirs
Original passport (cannot enter Machu Picchu without it)