Itinerary
DAY 1: SACRED VALLEY OF THE INCAS(Animal Sanctuary + Pisac + Moray + Maras + Salt mines + Ollantaytambo)
We will pick you up from your hotel at 7:30 am with our private van and head to the Sacred Valley of the Incas, taking the route to Pisac. Our first stop is the Ccochahuasi Animal Sanctuary, which has a variety of Peruvian animals, including Pumas, Condors, the national bird of Peru Andean cock-of-the-rock, llamas and more. Then, we stop at the mirador of Taray to enjoy a beautiful overhead view of the Urubamba valley. Next, we head to the Pisac archaeological site, where you can see the biggest Inca cemetery with more than 2,000 tombs. There, we can admire the hand-carved farming terraces on the side of the Mountain, explore the Inca tunnel, and the religious site of this great Inca ruin. Here, we will spend approximately 2 hours exploring the Inca city. Then, we will visit the colorful Pisac market, which is the largest in the area, visiting the different shops before driving to Urubamba for lunch.
After lunch, we visit Moray, which was an experimental farming site built in the form of an amphitheater, which each level naturally with a different temperature to grow different types of crops. These levels of terraces were carved before the Incas and then used by the Incas.
We continue our journey to the colonial town of Maras, walking downhill to the pre-Inca salt mines. Over three thousand salt ponds have been used for salt extraction since before Inca times and still supply Peru with over 90% of its salt. A hot spring at the top of the valley runs a stream of salt water into salt ponds and evaporates to produce edible salt. Finally, we drive to Ollantaytambo and explore this traditional Inca village and the Inca Ruins with our English-speaking guide. Here we spend the night at your hotel in Ollantaytambo, so we are ready to catch an early train to the start of the Inca Trail the next day.
Hotel in Ollantaytambo: Tunupa lodge, Iskay Hotel depending on availability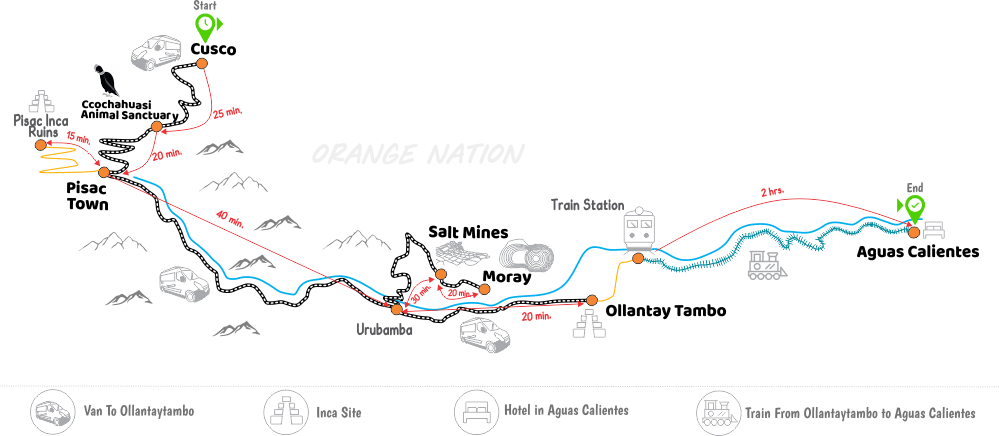 DAY 2: OLLANTAYTAMBO – KM104 (Inca Trail Entrance) – WIÑAY HUAYNA – SUN GATE – MACHU PICCHU
Your guide will pick you up from your hotel at 5:30 am to escort us to the Ollantaytambo train station, which is very close, to take the 6:10 am Expedition train. After an hour and a 15-minute train ride, we arrive at kilometer 104 (Inca Trail Starting Point – 2,100m/6,927ft) of the Cusco-Machu Picchu road where we begin our trek and pass by the first checkpoint. Afterward, we begin a moderate climb for three hours to the ancient archaeological site of Wiñayhuana (2,650m/8,747ft), where we will have fabulous views of the Urubamba Valley, Inca sites and the connection with the original 4-day Inca Trail.
After we rest and enjoy this beautiful sight as we continue our Trek towards the Sun Gate (2,730m/9,007ft), we will have our first view of Machu Picchu. Here, you will be able to take the same popular photos of Machu Picchu you see on social media. It is all downhill from here as we walk downhill for about one hour to Machu Picchu.
Then we take our 25-minute bus ride down to Aguas Calientes, where we spend the night in our hotel and enjoy a celebratory dinner.
Meals: Box Lunch & Dinner
Accommodation: Wiracocha Inn Hotel or Andean Terra Hotel
Difficulty: Moderate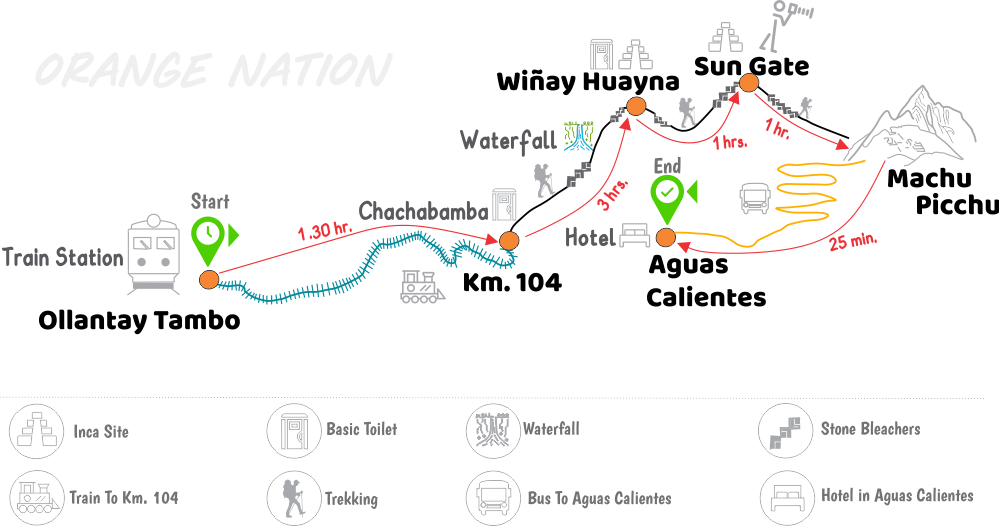 DAY 3: AGUAS CALIENTES – MACHU PICCHU – CUSCO
On this exciting morning that we have all been waiting for, we will take the 5:30 am shuttle bus to Machu Picchu, arriving in time for the sunrise over Machu Picchu. Ourguide will give us a 2.5-hour private tour teaching us the history, and little secrets hidden away by the Incas who once lived there. Then, you have plenty of time to explore on your own until noon.
Here are some other activities you can do on your own:
Climb Huayna Picchu or Machu Picchu Mountain and enjoy the amazing views of Machu Picchu from above. (Additional fee)
Walk to the Sun Gate, 2 hours round trip or the Inca Bridge, 1 hour round trip. (No additional fee)
Other optional activities in Aguas Calientes include a visit to the new local museum or to the hot springs. (Entrance fee to enter)
Around 12 noon, we will depart Machu Picchu and descend to Aguas Calientes. You can have a relaxing lunch and explore Aguas Calientes before boarding the Expedition train by 4:22pm returning to Ollantaytambo Train Station and then we will drive you approx. 90 minutes back to your hotel in our private van, arriving at approximately 9:30pm.
***There are now 2 sessions to enter Machu Picchu; 6am to 12pm and 12pm to 5:30pm. If you wish to stay after 12pm, you must purchase a second entrance ticket. If you book Huayna Picchu, you have an extra 2 hours and an extra 3 hours if you hike Machu Picchu Mountain.***

Inclusions
WHAT IS INCLUDED
Sacred Valley Tour
Entrances to the Inca cities and archeological sites
Professional guide for three days
Expedition train from Ollantaytambo to KM 104 and from Aguas Calientes to Ollantaytambo
Two nights hotel accommodation with private room, bathroom and breakfast included
Meals as indicated on the itinerary
Bus tickets from Aguas Calientes – Machu Picchu -Aguas Calientes
Personal assistance
WHAT IS NOT INCLUDED
Hotel – optional upgrades
Huayna Picchu Tickets: $75 USD per person
Machu Picchu Mountain: $70 USD per person
Upgrade to Vistadome: $57 USD per person (Return only Aguas Calientes to Poroy at 4:43pm)
Tips for your guide
ADDED VALUES FOR FREE:
Transfer from the airport to hotel: (Cusco only)
Price
***The Sacred Valley & Short Inca Trail Tour Package is available on any date as long as there are at least 2 people in the group (except February when it is closed for maintenance). This trek still takes you into Machu Picchu by walking through the SUN GATE, you will get to explore some incredible Inca ruins along the way.***
***The fantastic tour with Inca trail included is available on any date – Join in with our group and get the best deals.***
| | |
| --- | --- |
| No. OF PEOPLE | PRICE |
| 2 to 8 people (with 2 nights hotel) | $ 597 USD per person |
| 2 to 8 people (without hotel) | $ 517 USD per person |
***All entrance fees are included and we operate our tours in small groups averaging 5 persons with a maximum of 8!***
DISCOUNTS
Under 18 years old: $30 USD. Please send us a copy of your passport at the time of booking.
Under 11 years old: $40 USD. Please send us a copy of your passport at the time of booking.
EXTRAS
Huayna Picchu Mountain: $75 USD per person
Machu Picchu Mountain: $70 USD per person
Upgrade Hotel in Aguas Calientes: $40 USD to 3*** (Can upgrade to 4 or 5 star also)
Upgrade Hotel in Ollantaytambo: $55 USD to 3*** (Can upgrade to 4 or 5 star also)
Upgrade Hotel – 3 star: $45 USD (Can upgrade to 4 or 5 star also)
Single Supplement: $30 USD 2* and $45 USD 3* for single travelers
Important Info
Please read the following information carefully; it will help answer all of your questions about our services and Sacred Valley & Short Inca Trail Tour Package.
ARRIVAL TO CUSCO
We will pick you up from the Cusco airport and take you to your hotel in Cusco. Please let us know your flight details at least 14 days before arrival. Our representative will be holding an orange sign reading ORANGE Nation outside the arrivals. You must exit the terminal to find our representative as they cannot enter. (Please let us know if your hotel is in the Sacred Valley so we can make the necessary arrangments).
THE BRIEFING
The Briefing is the night before you begin the Sacred Valley & 1-Day Inca Trail to Machu Picchu tour at 6pm in our office which is located at Calle Santa Teresa Nº383; 107 (first floor), we are next to SUBWAY restaurant and across the street from Sunat. The only 3 story building with 2 balconies.
CAN I STORE MY LUGGAGE AT YOUR OFFICE:
ABSOLUTELY!! We will keep your main luggage at our office or you can store it at your hotel, both are free.
HOW TO BOOK THE TOUR?
FIRST, to book your Sacred Valley & Short Inca Trail Tour Package, we need you to fill out our booking form by clicking on BOOK NOW on our homepage or click here – BOOK NOW.
Please have the following information (From Each Person in your group). We cannot purchase entrance tickets to Machu Picchu or the train without the following information:
Personal information (your full name, exactly as on your passport):
Gender
Passport number
D.OB. (dd / mm / yyyy)
Nationality
SECOND, we require a deposit of $211.00 USD per person in order to purchase your entrance to Machu Picchu and train ticket. You can make you deposit by clicking on the PAYPAL symbols on the top of our home page, or you can click on the PAYPAL symbols on our booking page.
WHAT ABOUT THE BALANCE?
It would be greatly appreciated if you pay in cash at our office (US dollars or Peruvian soles) here in Cusco. We have many ATMs within the historical center to withdraw money. You can also pay by PAYPAL online but you will have to pay a 5.5% service charge, charged by PAYPAL. To pay your balance through PAYPAL, you need to log into your PAYPAL account using our email address orangenationperu@gmail.com.
MAY I CHANGE THE DEPARTURE DATE AFTER THE TICKETS HAVE BEEN BOUGHT?
Unfortunately No. Once the tickets have been bought the government does not allow any changes, so we cannot change any departure dates after the tickets have been purchased. Tickets are also non transferable nor refundable. If you cancel your Sacred Valley & Short Inca Trail Tour Package the deposit is not refundable at all!
DO I NEED MY ORIGINAL PASSPORT?
DEFINITELY! You MUST bring your original passport with the same passport number you sent to us to book your entrance tickets to Machu Picchu, train, other entrances and reservations. They will check when you enter Machu Picchu and board the train.
If you are renewing your passport or changing your name, please send us a COPY of your old passport to secure your permit, and we can change it when we receive a COPY of your new passport or updated name for a fee of $25 USD per person. We must have a copy of your old and new passport to make the change. Before you change your passport keep a copy of your old one.
If you do not wish to pay this fee, you must bring both passports with you to Peru. You can enter Peru with your new passport but you will need to show both passports, old and new, to enter Machu Picchu or the train. If you do not have both you will not be allowed to enter Machu Picchu or get on the train.
Remember to check your current passport to make sure it doesn't expire within 6 months of your arrival to Peru!!! The Government of Peru is enforcing the existing law that requires all foreign travelers to have a passport valid for a minimum of six months past the time of entry into Peru. Peruvian authorities will deny entry into Peru for travelers not meeting this requirement.
ARE WE DROPPED OFF AT OUR HOTEL?
OF COURSE!! We will drop you off at your hotel when we return from the trek or tour in either Cusco or the Sacred Valley.
TIPPING
If you are happy with the services provided, a tip is appreciated. While it might not be customary to you, it means a lot for the people, and their families, who will take care of you during the tour. It promotes better service and is an essential part of the tourism industry. Of course, you are free to tip what you feel is appropriate, based on how happy you are with the service and the length of your tour.
ARE YOU SUSTAINABLE?
We are a local sustainable & responsible tour operator which functions according to the ethical principles of tourism: protect the environment and benefit the indigenous communities respecting their culture and religion. We have trained all of our staff to know, understand and respect the local communities and the people living there.
The Sacred Valley & Short Inca Trail Tour Package does not include extra porter, so, you will need to carry all your stuff, please try to pack as light as possible, which will help make this an amazing trek.
Packing list
What you have to take with you for the Sacred Valley & Short Inca Trail Tour Package?
Original Passport (it has to be the same you have used for booking your trek)
Good daypack (the smaller, the better)
Drinking Water: 2-3L (Camelbaks are encouraged)
Comfortable hiking boots
Toilet Paper
2 t-shirts
1 hiking pants at least
Undergarments
Hiking socks
Jacket
Waterproof gloves – rainy season
Large plastic bags will be provided at the office — Please ask for them
Face moisturizer
Hand Sanitizer
Wet wipes
Toothbrush and toothpaste
Personal medications
Sun Hat
Sunscreen
Rain gear – rainy season
Snacks like chocolate bars, cereal bars or any dry fruit
Rain plastic poncho (provided by Orange Nation)
Camera
Extra Money for Souvenirs, Drinks & Tips