Day 1: Cusco – Soraypampa – Humantay Lake – Soyroccocha
At 5am, we will pick you up from your hotel and drive in our private van for 3.5 hours to Soraypampa. Along the way you will take in some beautiful views of villages, Iscuchaca, Limatambo, valleys and the spectacular Salkantay snow-capped mountain. At the Soraypampa trailhead we fuel up with a hot breakfast prepared by our chef while enjoying views of Humantay (5,900m/19,356ft) and Salkantay (6,217m/20,396ft) mountain glaciers. Then, we begin our trek with a 2.5 hour hike up to see the turquoise Humantay Lake. We continue with a gentle ascent for 1.5 hours to Salkantay Pampa where our trekking chefs have our delicious lunch waiting in front of the beautiful glacier. After lunch, we have a one hour uphill of switchbacks to arrive at our first campsite at Soroccocha located at the foot of the great Salkantay Mountain. Then, you can relax with a coffee or hot chocolate while enjoying the amazing views. Your tents will already be set up, so you can settle in before dinner.
Meals: Breakfast – Lunch – Afternoon Tea Time – Dinner
Accommodation: Camping facilities
Distance: 10kms/6 miles
Time: 6hrs approximately
Difficulty: Moderate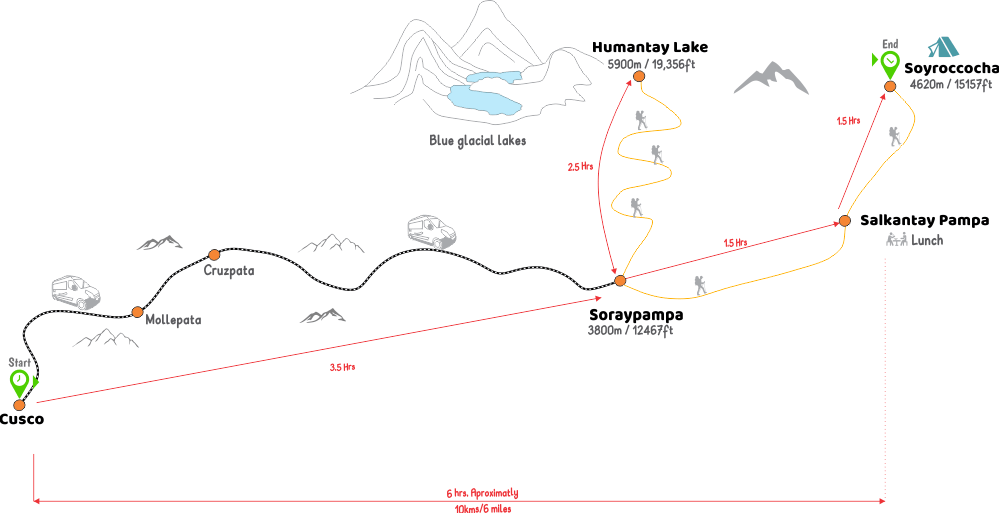 Day 2: Soyroccocha – Salkantay Pass – Glacial lake – Colpapampa
After a delicious breakfast, get ready for a moderate climb on your 2nd day, within an hour you will reach the highest point of the trek (4,650m/15,367ft). From here, we find nature at its purest form while in awe of the massive snow-capped mountains, Salkantay (6,217m/20,717ft), Humantay, Huayanay and the view of white rivers, and picturesque lakes. We take half an hour to enjoy the panoramic and truly exquisite turquoise Salkantay Lake. Continuing down to Rayanniyoc for lunch, prepared by our chef, and toward our finish line for the day, we trek for 2 more hours to the small village of Colpapampa to camp for the night.
Meals: Breakfast – Lunch – Afternoon Tea Time – Dinner
Accomodation: Camping facilities
Distance: 16kms/10 miles
Time: 8hrs approximately
Difficulty: Challenging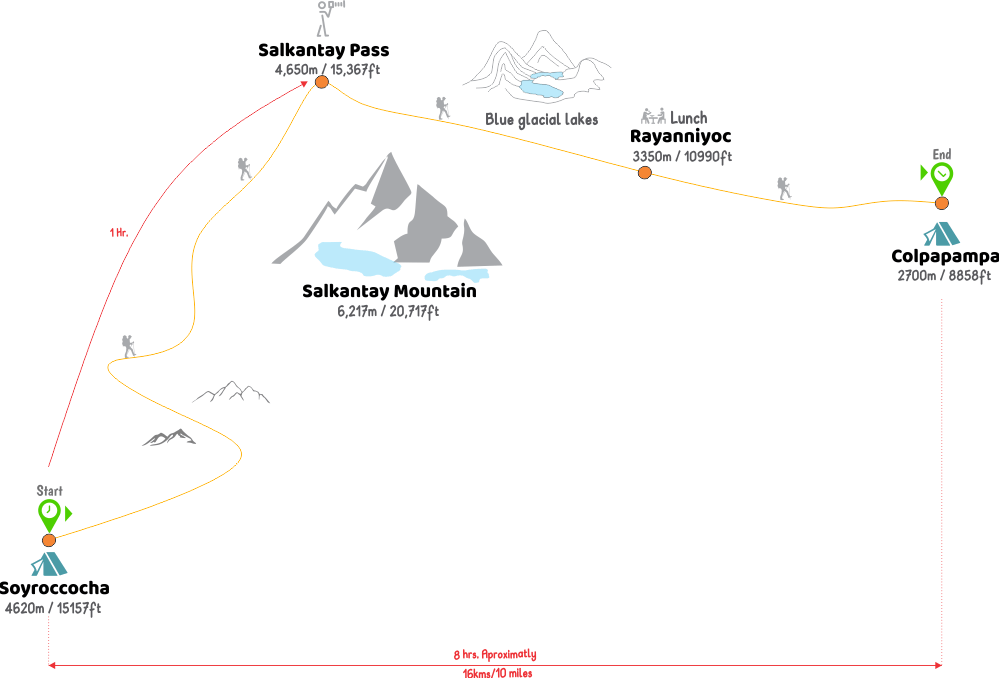 Day 3: Colpapampa – Lucmabamaba – Hot springs
Today, we have passed our mid way point! Within 3 hours of walking, we are enjoying the beginning of the lush tropical rainforest, the bountiful fruit bearing trees, coffee and cacao trees, and the inviting fruit plantations with their flowering orchids and always plenty of birds to watch. We arrive at fabulous Lucmabamaba for a gourmet lunch with free time to rest.
After lunch, we will experience nature at its purest, touring a coffee plantation adjacent to the campsite. Explore the fields and learn about the different varieties of beans, pick, roast, and grind your beans. Then enjoy brewing your own coffee. It doesn't end there! Co-existing with the fields of tomatoes and avocados are multiple ecosystems which we can appreciate as we pick our fresh produce which our chef will use for our dinner.
Around 3pm, we will take the local transport for 30mins to the natural hot springs at Cocalmayo. Here we soak our fatigued bodies in the natural, medicinal hot springs provided by Mother Nature, still revered today in traditional Andean beliefs as the Pachamama. Upon our return, our trekking chef will have created his specialty with our fresh produce from the day.
Meals: Breakfast – Lunch – Afternoon Tea Time – Dinner
Accommodation: Camping facilities
Distance: 14kms
Time: 5 to 6 hrs approximately
Difficulty : Moderate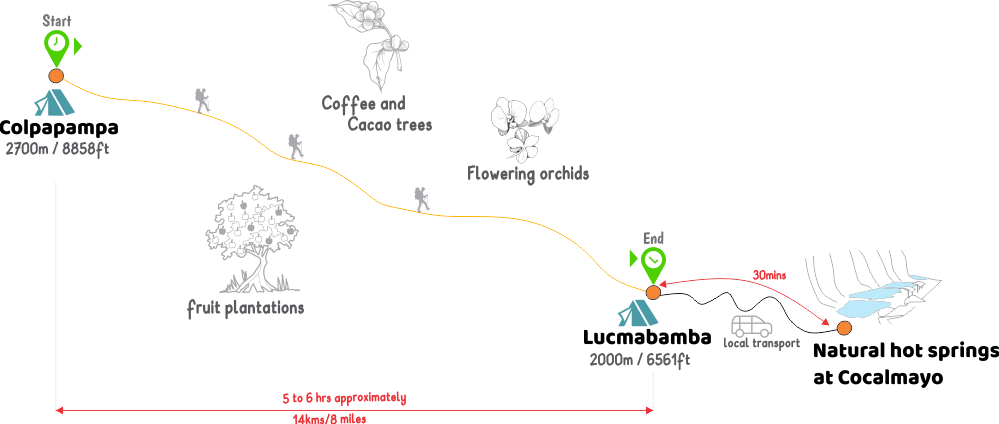 Day 4: Lucmabamba – LLAQTAPATA – Hydroelectric – Aguas Calientes
After our chef's last delicious breakfast for us, we will continue along the ancient and remote Inca Trail for 3 hours uphill to the Puncuyoc Pass (2,700m/8,858ft). Along the way, you will be in awe of the amazing views and the impressively unique valleys and fruit plantations. We will arrive to Llactapata Inca Ruins, located just in front of Machu Picchu where we enjoy its surrounding mountains – Huayna Picchu, Machu Picchu and the Aobamba Canyon.
Next, we descend for 2 hours to the Hydroelectric plant, the primary power source for Cusco, where we have lunch. Then it's the last leg of the journey walking to Aguas Calientes through the National Park of Machu Picchu, where we will sleep in the comfort of a real bed in a nice hotel.
Meals: Breakfast – Lunch – Dinner
2* Accommodation: Inti Punku Tambo or Wiracocha Inn Hotel
Distance: 15kms / 9 miles
Time: 9hrs approximately
Difficulty : Moderate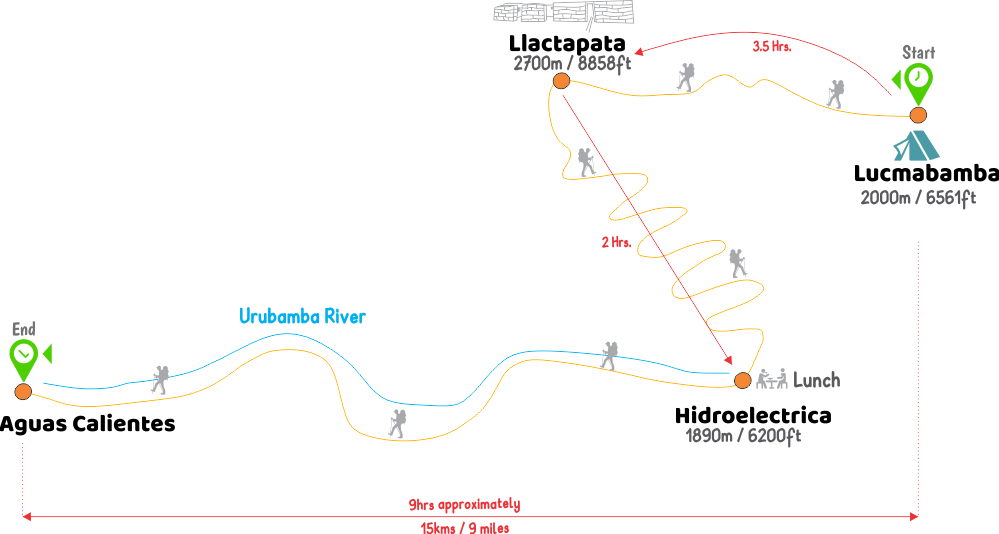 Day 5: Aguas Calientes – Machu Picchu – Cusco
After an early breakfast at your hotel, we are ready to get an early bus at 5:30am up to Machu Picchu just in time to witness the sunrise. It is a truly mystical site out of history and not something you'll want to miss! After enjoying the sunrise your guide will provide a guided tour of Machu Picchu, which takes around two hours. You will see many of the most important parts of Machu Picchu Citadel during your tour.
After the tour, those people that have booked in advance for the extra hike up Huayna Picchu will have time to hike it on their own. When they have had their fill of the incredible views of Machu Picchu, a bus back down to Aguas Calientes will be waiting. Upon arriving at Aguas Calientes lunch is waiting with numerous restaurants to choose from (lunch not included). Depending on your train departure time, there may be some time for shopping, or sightseeing.
The Expedition train will take you back to Ollantaytambo at 2:55pm or 3:20pm, following the spectacular Urubamba River. Close to Aguas Calientes, the canyon is narrow and the river has many beautiful sections of whitewater. Back at Ollantaytambo, your driver will meet you at the exit from the train station to take you back to your hotel in Cusco in our private van. You can expect to arrive at your hotel about 7:00pm.
Meal: Breakfast
Difficulty: Easy
***IMPORTANT:
You can upgrade to the Vistadome Train for the same times, 2:55pm or 3:20pm, 4:22pm, or 4:43pm. The cost is $57 USD.
Early trains can be organized by requested and it has to be done by booking time.
The Huayna Picchu Mountain Hike depends on availability and let us know about it at booking time.

IMPORTANT INFORMATION
Please read the following information as it will answer any of the questions you may have about our services and the Salkantay trek to Machu Picchu.
ARRIVAL TO CUSCO
We will pick you up from the Cusco airport and take you to your hotel in Cusco. Please let us know your flight details at least 14 days before arrival. Our representative will be holding an orange sign reading ORANGE Nation outside the arrivals. You must exit the terminal to find our representative as they cannot enter. (Please let us know if your hotel is in the Sacred Valley so we can make the necessary arrangments).
THE BRIEFING
Briefing
The Briefing will be the night before the trek at 6pm in our office which is located at Garcilaso Street 210, Office Nº:213 (2and Floor) in the la CASA DEL ABUELO shopping center.
CAN I STORE MY LUGGAGE AT YOUR OFFICE:
Definitely! During the Salkantay Trek to Machu Picchu your main luggage can be store at our office or at your hotel, both for free.
HOW TO BOOK:
FIRST, to book your Salkantay Trekking to Machu Picchu, we need you to fill out our booking form by clicking on BOOK NOW on our home page or click the link here – BOOK NOW.
Please be ready with the following information (FROM EACH PARTICIPANT in your group). We cannot purchase any Machu Picchu permits without the following information:
Personal information (your full name, exactly as on your passport)
Gender
Passport number
D.OB. (dd / mm / yyyy)
Nationality
SECOND, we require a deposit of $211.00 USD per person in order to purchase a ticket for the Salkantay Trek to Machu Picchu. You can make your deposit by clicking on PAYPAL symbols on our booking page.
HOW DO I QUALIFY FOR THE STUDENT DISCOUNT?
According to Peruvian Law, you must be under 18 years of age at the time of your trek, tour, or visit to Machu Picchu (students 18 & above need student cards). For example: if you book a trek at the age of 17 but you turn 18 before you do your trek, you do not qualify for a student discount.
All students from 11 to 17 years, the discount is $30.
For children from the age of 2 to 11 the discount is $40.
Children under the age of 2 are free.
All students must provide a copy of their passport at the time of their booking to get the student discount.
Send us a copy at orangenationperu@gmail.com
MAY I CHANGE THE DEPARTURE DATE AFTER THE TICKETS HAVE BEEN BOUGHT?
Unfortunately No. Once the tickets for Machu Picchu have been bought the government does not allow any changes, so we can't change any departure date after the ticket has been bought. Tickets are also not transferrable nor refundable. If you cancel your Salkantay Trek to Machu Picchu, the deposit is not refundable at all!
DO I NEED MY ORIGINAL PASSPORT ON THE SALKANTAY TREK TO MACHU PICCHU?
Absolutely! You have to bring your original passport and it is very important that it is the same passport number you sent to us to book your Salkantay Trek to Machu Picchu permit. In case you are renewing your passport, go ahead and send us your old number to secure your permit, and we can change it when you get your new passport number. Please send the new passport number as soon as possible.
Remember to check your current passport to make sure it doesn't expire within 6 months of your arrival to Peru!!! Most airlines are enforcing the existing law that requires all foreign travelers to have a passport valid for a minimum of six months past the time of entry into Peru. Peruvian authorities will deny entry into Peru for travelers not meeting this requirement.
WHAT IS THE WEATHER LIKE IN THE SALKANTAY TREK TO MACHU PICCHU?
SALKANTAY TREK WEATHER – Weather on Salkantay trek is very varied, due to the fact that it winds its way through wildly different terrain at different altitudes. The only place where weather is a serious concern is the Salkantay Pass, and the nearby areas. Temperatures here, and at the nearby Soraypampa campsite, can fall below freezing. The other camps are much warmer, due to their proximity to the cloud forest.
The months September, October, November and December have a nice average temperature.
On average, the warmest month is September.
On average, the coolest month is January.
We highly recommend you to bring some warm clothes and good rain gear in your day backpack.
WHAT ABOUT ALTITUDE SICKNESS ON THE 5 DAY SALKANTAY TREK TO MACHU PICCHU?
For some visitors, the first hours in Cusco can be summarized as: shortness of breath, a discomfort in the body, dizziness, headaches, stomachaches, even vomiting. As great connoisseurs of natural medicine, the Incas used coca leaves to counteract soroche, quechua for high-altitude sickness.
Don't do anything other than rest
If you travel from Lima to Cusco, the effect can be immediate. This lack of oxygen, scientifically known as hypoxia, begins to manifest itself at 7,874 ft (2,399 m) above sea level. That's why right after landing in Cusco, visitors can feel fatigued and have shortness of breath when walking. It is advisable to take it really easy on the first day and, if possible, rest the first few hours to help the body acclimatize to the altitude.
Stay hydrated
How do people feel after a night of drinking? Thirsty. That's how you'll feel when you arrive in Cusco. As already stated, the body dehydrates quickly in high altitudes. It is recommended you drink lots of water before and during your trip to Cusco. Also, avoid heavy meals since your stomach takes longer to digest food at high altitudes. A diet of low proteins and high carbs is advisable.
Discovering coca
No one knew better the effects of high altitude than indigenous peoples. Coca is the best natural medicine to combat altitude sickness. It was even considered sacred because of its curative powers and is still used in the same way now as it was in the time of the Incas. It contains iron, vitamins A, B1, B2 and calcium, among other nutrients. Coca makes it easier for your bloodstream to absorb oxygen, suppresses hunger, combats fatigue, headaches and can ease your stomach. Try drinking coca tea, which is found in the lobbies of most hotels in Cusco.
HOW MANY PEOPLE ARE THERE PER GROUP?
The maximum group size is 8 persons. Our groups are usually between 2-6 persons. ORANGE Nation Peru specializes in SMALL, PRIVATE groups and provides a personalized service.
HIKING THE 5 DAY SALKANTAY TREK TO MACHU PICCHU
The evening before you start your trek, you will be given a SMALL DUFFEL BAG to pack your clothes for the next four days. Your weight allowance is up to 7kg/14p. Your team of porters will carry your duffel bag for you, together with the food and camping gear. It's important to be aware that you will not have access to your items in the duffel bag until the end of each day, as the pack horses will always be ahead of the group. During the trek, you need a day backpack big enough to carry your personal belongings such as a warm jacket, a rain jacket, your camera, sunscreen, snacks, water, etc. A 30 to 40L backpack is sufficient.
IS THE SALKANTAY TREKKING DIFFICULT, DO I NEED TO BE FIT?
The Salkantay Trek is a fairly difficult trek and you should be well prepared and healthy prior to starting it. You have to be moderately fit and take regular exercise. In preparation: try walking 15kms in a day or go to the fitness club in the months leading up to the trek. It is also important to be well acclimatised to the altitude. Try to spend at least 2 or 3 days in Cusco (3350m/11,047ft) prior to starting the trek.
ARE THERE TOILETS ON THE SALKANTAY TREK TO MACHU PICCHU?
Yes, there are toilets on the Salkantay trek to Machu Picchu but only those offered by the locals for an entrance fee of 1 sole.
There are hot water pools to soak in and relax on the 3rd day of your Salkantay Trek to Machu Picchu natural hot springs at Cocalmayo. Be sure to bring your bathing suit.
WHAT HAPPENS IF I AM UNABLE TO FINISH THE SALKANTAY TREK TO MACHU PICCHU 5 DAYS?
In the unlikely scenario that you are unable to finish the trek due to a health issue, ORANGE Nation Peru will assist you to the nearest town for help with transportation. We always carry oxygen on the trek for any respiratory problems. In extreme cases, a helicopter pick up can be arranged at your own expense. (Travel insurance required). There are no refunds in the unlikely situation that you are unable to finish the trek.
Generally those who have to be assisted off the trail are taken to Ollantaytambo and if they recover quickly, they then continue the journey to Aguas Calientes (cost incurred by trekker) and visit Machu Picchu according to original plan.
ARE WE GOING TO BE DROPPED OFF AT OUR HOTEL AFTER THE 5 Day SALKANTAY TREK?
Absolutely!! Included in the package and on the last day we will drop you at your hotel! If you have booked your hotel in the Sacred Valley like Ollantaytambo or Urubamba, we will drop you there too! If you spend the night at Ollantaytambo before the trek, for sure we wil pick you up there !
AT WHAT TIME IS THE TRAIN DEPARTURE?
It will depend on the train availability (high season it could book out) but the idea is to give you as much time as possible in Machu Picchu and enjoy the amazing views on the way back to Cusco from the train. Therefore, you we usually book the train at 14:55 or 15:20.
VISTADOME TRAIN UPGRADE; HOW MUCH IS IT?
The upgrade to Vistadome train which has slightly nicer seats, panoramic windows and ceiling. You will have some snacks and a dance show on board. The price is $57 USD per person which includes the transfer from Poroy train station to your hotel in Cusco. It is 2 hours by train from Aguas Calientes to Ollantaytambo and then another 2 hours from Ollantaytambo to Cusco by bus. If you upgrade to Vistadome, all the way back to Poroy (Cusco), the trip lasts 3.5 hours, then 25mins by our private van to your hotel. Our clients are back at the hotel by 8pm.
TIPPING
If you're happy with the services provided, a tip – though not compulsory – is appreciated. While it may not be customary in your country, it's of great significance for the people who will take care of you during the trek. It inspires them to give excellent service and is an entrenched feature of the tourism industry across many Orange Nation Peru destinations. Of course you are free to tip as much as you feel appropriate, depending on your perception of the quality and the length of your trip. Remember, a tip is not compulsory and should only be given when you receive excellent service.
ARE WE SUSTAINABLE?
Yes, we are a local, sustainable & responsible tourism operator for that we incorporate the universal principles of tourism: protect the environment and benefit the local communities by respecting their culture and religion. With this in mind, we have trained all our local staff to know and understand, respect the places and the local people.