Great Off the beaten track trek
The Incas constructed one of the most extensive and intricate road network leading to Machu Picchu for that period. This particular part goes through fertile valleys, towering mountains and passes through the seldom visited Inca city of Huchuy Cusco (directly translates to Little Cusco).
If you are strapped for time and would also like a cultural experience along the way, then The Huchuy Q'osqo (Oo-chee Cusco) trek is the perfect choice for you. We recommend an overnight at a homestay in the beautiful rural countryside. Sam travel and Orange Nation offer a 3-day trek that includes a homestay, Moray and Maras Salt Mines. Enjoy the penultimate part of the journey on a train to Aguas Calientes. Before catching the bus, the morning to explore the mysterious ruins of Machu Picchu.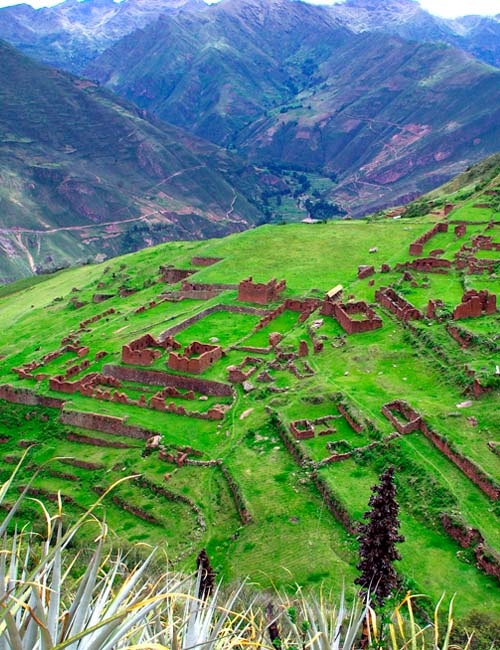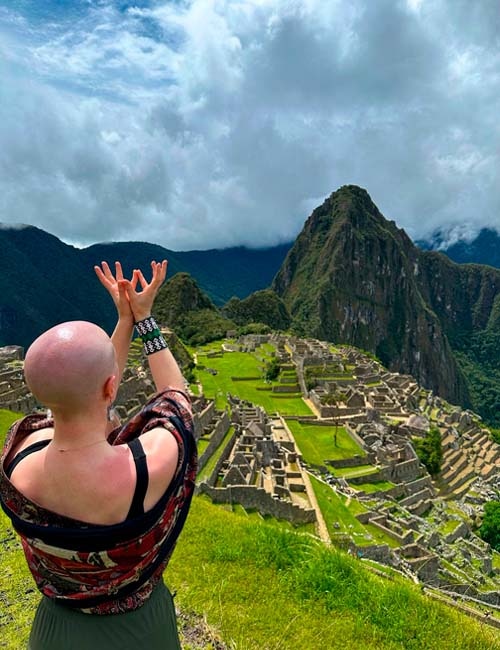 Stunning views and ancient terraces
  This hike offers unparalleled beauty, peace and tranquility. The Andes treat you to stunning mountain landscapes with plenty of llamas and alpacas grazing nearby. The highest pass of the trek Pukamarca pass (4 200m/13 779ft) has magical panoramic views of the Vilcabamba Mountain Range and a serene crystal-clear lake below. Snowcapped mountain peaks like Mt Veronica, Mt Pitusiray, Mt Chicon and Mt San Juan are in full view for you to immerse yourself in. After, you descend through a canyon surrounded by big boulders. Adjecent is a river that steadily flows towards the valley. The trail itself is mostly carved with the same stone the Incas used in their architecture. Along the way, you will also past Inca remains, Inca bridges and sets of Inca stairs.
 It is a stunning path, and the river guide to you to bnbn bnb bnbnbn
your destination, the Huchuy Q'osqo ruins at  3600m.
Here you rest for the night at the welcoming home of a local, an experience not to be missed and a perfect show of hospitality as well as an insight into life in these remote parts. Inside your tiny adobe home, you will be surprised to find a humble flushing toilet. The family will also serve a warm and hearty homemade dinner.
The next day is spent exploring the ruins and the impressive terraces that seem to endlessly cling to the hillsides. From here it is on to Ollantaytambo to board the train to Aguas Calientes, and the next day Machu Picchu.
What you may expect to see in the Huchuy Qosqo Trek?
The Sacred Valley is full of surprises and Huchuy Q'osqo certainly grabbed me unexpectedly.
Trekking in the high mountains with no other tourists, just traditionally dressed women shepherding and weaving while their flock grazed.
Fantastic views to Lares and snow-capped Pitusiray were the perfect complement to a slow descent through a tight canyon called Leon Punku – the Lion's mouth.
The soothing fall of a small waterfall played quietly in the background while we hiked on ancient Inca Trails, still used by people living here. Along the way, incredible rock formations in the stream and above our heads.
Enjoy the home-stay and see how they live there!
Explore the salt mines, moray and Ollantaytambo.
Best Time of the Year for the Huchuy Qosqo Trek to Machu Picchu
There are two main seasons in the Peruvian Andes:
The dry season runs from late April through to early October.
The wet season starts mid to late October and ends in April.
But, When is the best time of the year to do Huchuy Qosqo Trek ?
The trek can technically be completed all year round, the peak trekking season to Machu Picchu occurs during the dry season and is busiest between May and September. So, the best time of year to do Huchuy Qosqo Trek is from the shoulder of wet months March/April all the way through to the shoulder of dry months October/November.
Huchuy Qosqo Trek Difficulty
The Huchuy Qosqo trek is short and sweet by Peru trekking standards anyway
The Huchuy Qosqo hike is about 32km (19.69 miles) in total. Tour companies often split this up over two days with a visit to Machu Picchu on the third day.
It is possible to hike Huchuy Qosqo in one day along a 13km / 8-mile route, which takes about 7 hours. In order to hike the Huchuy Qosqo trek, you should be relatively fit and have some solo-hiking experience to attempt this.
See more in our guide on how to train for Machu Picchu to give you a better idea of what to expect on formidable treks like Huchuy Qosqo.
There are also some steep downhill sections that are tough on the knees. Trekking poles will help for these descents.
Something else you need to consider before hiking Huchuy Qosqo is the altitude. A long part of the trek is in high elevations. Make sure you are well acclimatized beforehand (see more on this below).
DAILY ITINERARY FOR HUCHUY QOSQO TREK?
DAY 1: CUSCO – PATABAMBA – HUCHUY QOSQO
Your guide will pick you up from your hotel at 6am and you will drive in our private transport to the village of Patabamba (3,800m/12,467ft), only 1 hour from Cusco. Once we arrive, we start our first hike uphill for the next 3 hours to get to the highest point of the trek (4,200m/13,779ft). From there, we have amazing views of the surrounding snow-capped mountains and valleys. We head down to the village of Pucamarca and spend time at the Inca ruins there. Then, we follow the original Inca trail into the Inca city of Huchuy Qosqo where we have time to explore before hiking to our guesthouse. Our guide will introduce you to your host family who will show us your room for the night, where you will have incredible views of the surrounding areas and the Inca city. In the afternoon, we will enjoy afternoon tea, and later have dinner with our host family! This evening, we will enjoy the endless stars, uninterrupted by city lights, and our guide will teach us about the Inca constellations.
Meals: Picnic Lunch – Afternoon Tea Time – Dinner
Accommodation: Homestay at a local family's home with a proper toilet
Distance: 13kms/8 miles approximately
Difficulty: Moderate
DAY 2: HUCHUY QOSCO – OLLANTAYTAMBO – AGUAS CALIENTES
We have a nice breakfast before our guided tour of the Huchuy Qosqo Inca City where you will explore incredible Inca buildings, sacred temples, farming terraces, storehouses and water system. After you have had time to see everything, we walk downhill for 2 hours to Lamay. Our private van will take us to Urubamba, where we will have lunch.
Next, we head to the ancient site of MORAY, which is a unique site, built prior to the Incas for experimental farming. It has different levels of terraces carved into a huge bowl, much like an amphitheater below ground. Each terrace has a different temperature, depending on how deep it is in the basin. Archeologists theorize that here the Inca researched the optimal growing conditions for their crops. After you have time to explore the site, we continue driving towards the colonial town of Maras and to the Pre-Inca Salt Mines (Salineras). Thousands of saltpans have been used for salt extraction since before Inca times. A hot spring at the top of the valley discharges a small stream of heavily salt laden water, which flows into over 3,000 ponds and evaporates to produce salt. This is one of the few places in the world where you can find naturally pink salt! It is a quite beautiful the array of salt ponds carved into the mountainside.
Then, we continue to Ollantaytambo, where we will explore the quaint and authentic Inca City of Ollantaytambo. In the afternoon, we will take the train to Aguas Calientes and spend the night in our hotel.
Meals: Breakfast, Lunch & Dinner
2* Accommodation: Inti Punku Tambo or Wiracocha Inn Hotel
Distance: 7kms/4.3 miles approximately
Difficulty: Easy
DAY 3: AGUAS CALIENTES – MACHU PICCHU – CUSCO
After an early breakfast at your hotel, we are ready to get an early bus at 5:30am up to Machu Picchu just in time to witness the sunrise. It is a truly mystical site out of history and not something you'll want to miss! After enjoying the sunrise your guide will provide a guided tour of Machu Picchu, which takes around two hours. You will see many of the most important parts of Machu Picchu Citadel during your tour.
After the tour, those people that have booked in advance for the extra hike up Huayna Picchu will have time to hike it on their own. When they have had their fill of the incredible views of Machu Picchu, a bus back down to Aguas Calientes will be waiting. Upon arriving at Aguas Calientes lunch is waiting with numerous restaurants to choose from (lunch not included). Depending on your train departure time, there may be some time for shopping, or sightseeing.
The Expedition train will take you back to Ollantaytambo at 2:55pm or 3:20pm, following the spectacular Urubamba River. Close to Aguas Calientes, the canyon is narrow and the river has many beautiful sections of whitewater. Back at Ollantaytambo, your driver will meet you at the exit from the train station to take you back to your hotel in Cusco in our private van. You can expect to arrive at your hotel about 7:00pm.
Meals: Breakfast
Difficulty: Easy
What Should I Pack for the Huchuy Qosqo trek
Much like any other multi-day trek, you'll want to pack as lightly as possible for the Huchuy Qosqo trek.
Usually, the tour operators will let you pack a small duffel with some extra clothes and toiletries. These get transported by mule from campsite to campsite. In addition, you'll want to carry your own day pack with essentials like water, sunscreen, and clothing layers. We do recommend to take 30L hiking backpack.
Some list of what you must packed.
Original passport
Waterproof hiking boots – Columbia hiking boots are great.
3-4 pairs of thick hiking socks – REI has a fantastic selection of hiking socks, but if you prefer to order online, Smartwool has some great options for men and women.
2-3 sweat-wicking t-shirts or tank tops
1-2 long-sleeve shirts (including a synthetic or Merino wool baselayer if you have one)
1-2 pairs of long pants
A thermal jacket
A rain shell – North Face rain jackes are greatt
A reusable water bottle
A head lamp
A hat or visor
Bug spray and sunscreen (Highly recommneded)
Toiletries
Sleeping bag – It can be rentes from Orange Nation Peru.
Trekking poles – It can be rentes from Orange Nation Peru.