The Inca Trail Treks are known as some of the world's best hikes. The trail was built by the Incas over 900 years ago to connect their capital city of Cusco to the Sacred Citadel of Machu Picchu. The Classic 4-day Inca Trail is in extremely high demand and permits sell out quickly. However, for some the Classic Inca Trail is too challenging of a trek, or they do not have the time, or permits are sold out.
The 2 day Inca Trail to Machu Picchu, the last one third of the Classic Inca Trail is a perfect option. A hiker still enters through the Sun Gate straight to Machu Picchu Citadel, gets to visit the archeological site of Winay Huayna and visits Machu Picchu twice, the 1st and 2nd day of the trek. A great option for all!
HOW EARLY MUST I BOOK THE 2 DAY INCA TRAIL TO MACHU PICCHU FOR 2024?
SHORT INCA TRAIL: If you are booking the 2 day Inca Trail to Machu Picchu, it is preferred that you also book in advance, however 2 to 4 months before is possible depending on the date you chose to trek.
*** Please note: To protect this historical trek, the Peruvian government heavily regulates it. There are only 250 permits issued per day for the 2 day Inca Trail to Machu Picchu. Before there were usually enough permits for this trek, however due to the high demand months of May through September, some dates are may be sold out.
WHY SHOULD I BOOK BEFORE PERMITS ARE RELEASED?
Orange Nation makes sure all their hikers' information is updated and ready to use to secure the Inca Trail permit on the date the client is hoping to secure. Thus, the moment the permits are released for sale, we can purchase the permits before they are all sold out. Some dates in May or June may sell out within minutes, others in hours. Any delay in this process could mean Orange Nation is unable to secure your Inca Trail permit, especially for the Classic Inca Trail. It is always wise to provide an alternative date to be sure of getting your permit.
IS IT POSSIBLE TO BOOK AT THE LAST MINUTE?
It may be possible to book at the last minute with the 2 day or 1 day Inca Trail if you are looking to trek in a month of the year where demand is lower. However, it is not recommended! The permits are not the only item that can book out, tickets for the 6AM early entrance to Machu Picchu, trains and hotels can also book out. Please do not wait until the last minute, book now if you have set dates!
WHAT PERSONAL INFORMATION IS REQUIRED TO BOOK THE 2 DAT INCA TRAIL TO MACHU PICCHU PERMITS?
Orange Nation needs your personal details and they must match your passport. What is required is your full name as written in your passport, passport number, date of birth, nationality and gender. Once again, it must match exactly your passport! After booking, please send us a copy of your current passport or driver's license if you are booking with that.
If you are renewing your passport, Orange Nation can book with your old passport number (or driver's license number) and we will update once your new passport arrives. Further details are written below.
WHAT IF I DON'T HAVE A PASSPORT YET OR MY PASSPORT WILL EXPIRE BEFORE THE TREK?
If you are still in the process of obtaining your passport, you can still book with your driver's license information and when you obtain your new passport then simply email Orange Nation a photo of both your new passport and your driver's license and we will update your permit information at the government office. Please bring your drivers license and new passport when you come to Peru.
If your passport will expire before you trek, you can book the Inca Trail hike with your current passport and when you obtain your new passport, you can take photos of both your old and new passports. Then email Orange Nation those photos and they will update your permit information at the government. It is also wise to bring both your old passport and new passport to Peru when you come if your still have your old passport.
CAN I DO THE 2 DAY INCA TRAIL WITHOUT A TOUR PROVIDER?
NO, IT IS IMPOSSIBLE! The government of Peru strictly controls the 2 day Inca Trail to Machu Picchu. This hike can only be booked by a fully licensed tour operator. Orange Nation is a 100% licensed Inca Trail tour operator by the government here in Cusco, Peru. (Not all tour operators can do the Inca Trail) We take pride in the journeys we create for our clients and we guarantee you won't regret putting your trust in Orange Nation!
HOW BIG WILL ORANGE NATION GROUPS BE IN 2023 and 2024?
Orange Nation specializes in small intimate groups! We want to guarantee the best possible experience for all our hikers. it allows you to get to know your fellow hikers better and to better enjoy your trekking experience. Our group sizes range from 2 to 8 persons. If 2 persons book it is guaranteed you go even if no other people book. You book, pay your deposit, you go!
CAN A PRIVATE INCA TRAIL TOUR BE BOOKED?
YES, you absolutely can book a private hike at an additional cost! The cost varies depending on the size of your private group. A private tour means that you will have your own personal guide.
***However, you may not be hiking completely alone on the Ina Trail as there will be other groups hiking the trail as well.
HOW DO I BOOK THE 2 DAY INCA TRAIL FOR 2024?
Booking with Orange Nation is easy. All you need to do is click on the BOOK NOW link and follow the instructions. If you have questions, please chat with us or give us a call using the phone numbers on the top of the main page for the Peru office or the USA office.
***Please be sure you have all your passport information ready when you book and send us a copy of your passport via email afterwards. (see earlier instructions if you do not yet have a passport or it will expire before the trek begins. It is still possible to book now!
As soon as we receive your completed booking form and your $200 deposit per person, we will email you a confirmation. Once permits are released from the government, our staff will confirm once again that your permits are secured for your preferred date after we have purchased them in October 2013.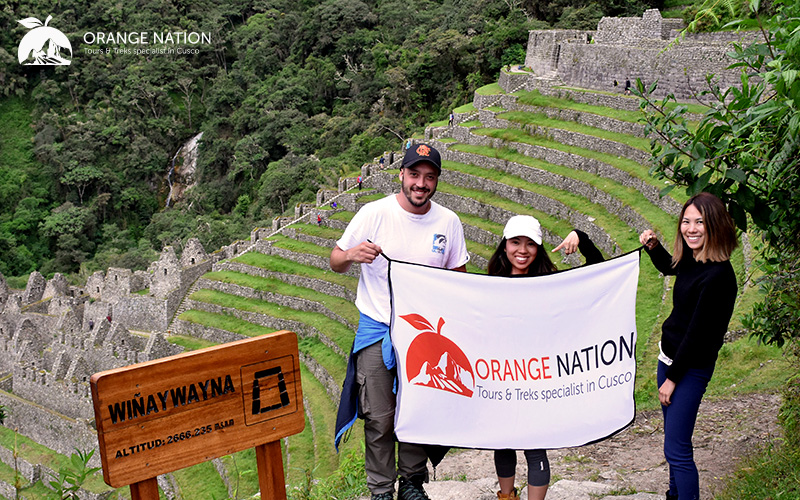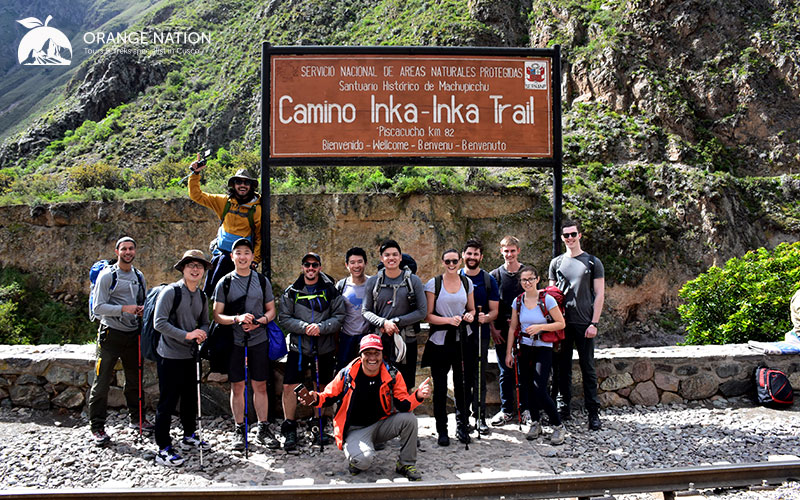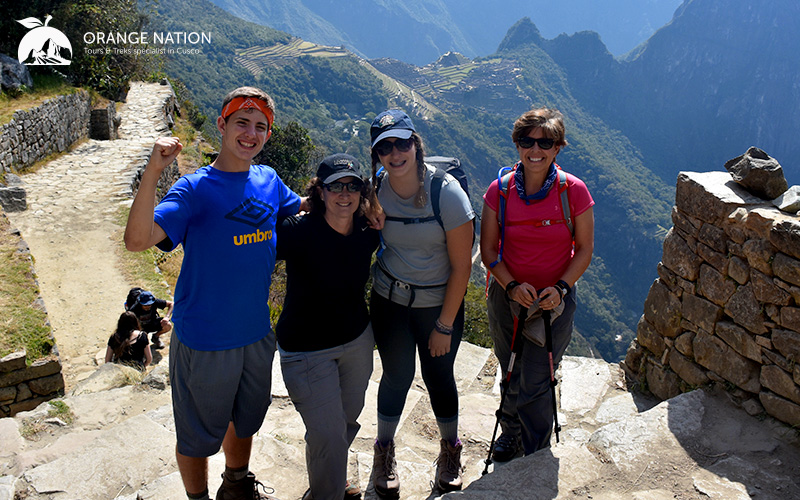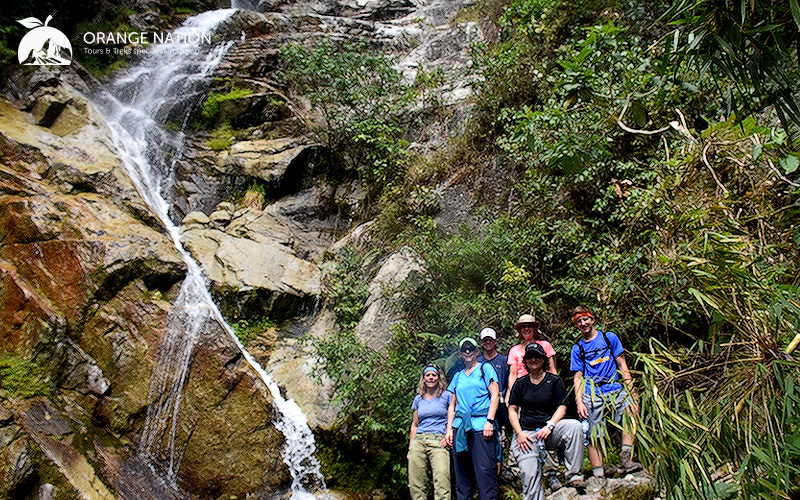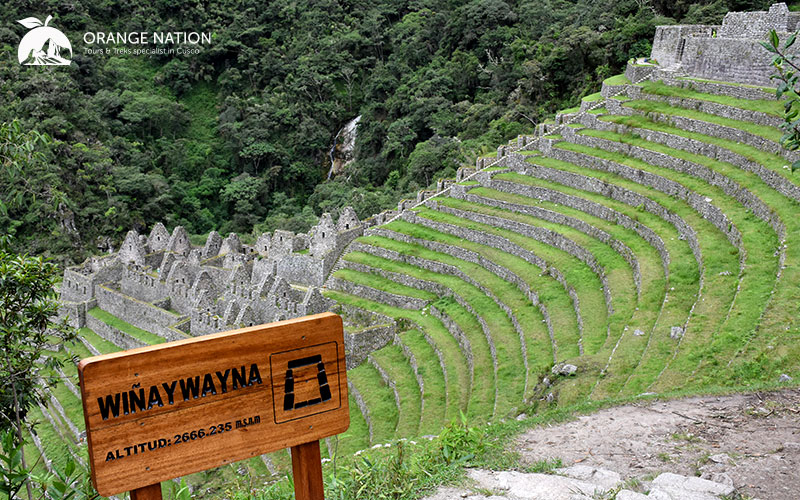 [tabby title="Itinerary"]
DAY 1: CUSCO –KM 104 – WIÑAY HUAYNA – SUN GATE – MACHU PICCHU – AGUAS CALIENTES
We pick you up from your hotel at 4:00am and drive 90-minutes private transfer towards the Ollantaytambo train station to take the Expedition train at 6:10am. After an hour and 15-minute train ride, we arrive to kilometer 104 (Inca Trail Starting Point – 2,100m/6,927ft). Then, we begin a moderate uphill hike for three hours towards the ancient archaeological site of Wiñayhuana (2,650m/8,747ft). Where we will have fabulous views of the Urubamba Valley, Inca sites and the connection with the original 4-day Inca Trail. This climb has relatively flat areas mixed with upward stairs, which is how the Incas went uphill.
After we rest and enjoy this beautiful sight, we continue our trek to the Sun Gate (2,730m/9,007ft) which has slight ups and downs. From here, we will have our first view of Machu Picchu from where most of the famous photos of Machu Picchu are taken. It is all downhill trek from here, about 1 hour to Machu Picchu.
We take a 25-minute shuttle bus ride down a zig zagging road towards Aguas Calientes, where we spend the night in our hotel and enjoy a celebratory dinner.
Meals: Box Lunch & Dinner
Accommodation: Wiracocha Inn Hotel or Andean Terra Hotel
Difficulty: Moderate

DAY 2: AGUAS CALIENTES – MACHU PICCHU – CUSCO
On this early and very exciting morning, we will take the 5:30am shuttle bus back up the zig zagging hill to catch the sunrise over Machu Picchu. Our guide will give us a 2.5-hour private tour, teaching us the history and secrets hidden away by the Incas who once resided there. Then, you have plenty of time to explore on your own until 12 noon.
Here are some other activities you can do on your own:
Climb Huayna Picchu or Machu Picchu Mountain and enjoy the amazing views of Machu Picchu from above. (Additional fee)
Walk to the Sun Gate, 2 hours round trip or the Inca Bridge, 1 hour round trip. (No additional fee)
Other optional activities in Aguas Calientes include a visit to the new local museum or to the hot springs. (Entrance fee to enter)
Around 12 noon, we will depart Machu Picchu and descend again back down the curvy road to Aguas Calientes. You can have a relaxing lunch and explore Aguas Calientes before boarding the Expedition train at 4:22pm (be there 1/2 earlier – 4pm at the latest), returning to Ollantaytambo Train Station.
Finally, we will drive approximately 90 minutes to drop you off on the doorstep of your hotel in Cusco, arriving around 7pm.
There are now 3 sessions to enter Machu Picchu and you can stay ONLY for 4 hours into Machu Picchu.

[tabby title="Inclusions"]
WHAT IS INCLUDED FOR THE 2 DAY INCA TRAIL TO MACHU PICCHU?
Pick up at your hotel
Private transfer from your hotel to the train station and back again
3 Bus tickets between Machu Picchu and Aguas Calientes
English-speaking guide
Private guided tour in Machu Picchu
Expedition Train from Ollantaytambo to Aguas Calientes & Agua Calientes – Ollantaytambo
Admission Tickets to the Inca Trail and Machu Picchu Archaeological site
One night accommodation in Aguas Calientes. (hot shower, bathroom, private room and breakfast included)
First-aid kit including emergency oxygen tank
Taxes
WHAT IS NOT INCLUDED FOR THE SHORT INCA TRAIL TO MACHU PICCHU?
Wayna Picchu Mountain:$75 USD per person
Machu Picchu Mountain:$75 USD per person
First breakfast (Served in Hotel), Last lunch at Machu Picchu
OPTIONAL UPGRADES: Hotel
VISTADOME Train to Cusco instead of Expedition Train-$57 USD per person (RETURN ONLY)
Tips for your staff (Sam Travel Peru staff receive fair and decent payment immediately after they end their trip, tips are optional but greatly appreciated).
[tabby title="Price"]
The Short Inca Trail to Machu Picchu is available on almost any day that suits your schedule – we only need a minimum of two people in order to book. Single travelers are welcome to join a group if there is a group already programmed.
| | |
| --- | --- |
| | Price per person |
| Without Hotel | $407 USD |
| 2* Hotel | $427 USD |
| 3* Hotel | $467 USD |
| 4* Hotel | $527 USD |
**** Free backpack (small) transfer from Cusco to Aguas Calientes hotel.
DISCOUNTS
18 to 25 years old:$20 USD. Information required on student card: name of university, student name, photo of student, expiration date etc. A copy of the card at booking is required & government approval for discount.
Under 18 years old:$25 USD. Please send us a copy of your passport at the time of booking.
Under 11 years old:$30 USD. Please send us a copy of your passport at the time of booking.
Huayna Picchu Mountain Hike:$70 USD per person
Machu Picchu Mountain Hike:$70 USD per person
Vistadome Train:$57 USD per person – (RETURN ONLY)
Single supplement for standard hotel:$30 USD per night (for solo travellers with single room)
Free duffel bag (5 kilos): to your hotel in Aguas Calientes for those staying extra days
FREE ADDED VALUES
TRANSFER FROM AIRPORT: Pick up from the airport with transfer to your hotel in Cusco included (Cusco only).
SMALL GROUPS: average 4 to 6 with a maximum of 8 hikers
AFTERNOON TRAIN: We give you enough time to explore Machu Picchu and have a relaxing lunch at Aguas Calientes. Your train back to Ollantaytambo is at 4:22pm, and when you arrive to Ollantaytambo, you catch your private van to Cusco, arriving to Cusco by 8:30 PM.
HOTEL AT AGUAS CALIENTE CITY: includes private bathroom, hot shower, buffet breakfast, wifi, etc.
The short Inca trail to Machu Picchu is almost always available year round except it is closed in February for maintenance — This trek takes you into Machu Picchu by walking through the SUN GATE like in the ancient times, you will explore some amazing Inca ruins. along the way like Wiñaywayna Inca City.
[tabby title="Availability"]
CHECK YOUR SHORT INCA TRAIL TO MACHU PICCHU AVAILABILITY BY CLICKING ON MONTH OF YOUR CHOICE!
[SamCalendarAlternative rtu="4″ package="SIT2D" lang="en"]
[tabby title="Important Info"]
IMPORTANT INFORMATION
Please read the following information to help answer any questions you may have about our Services and the Short Inca Trail to Machu Picchu.
ARRIVAL TO CUSCO
You will be met and welcomed at Cusco airport and taken to your hotel, please ensure that you inform us of your full flight details at least 14 days prior to your to Cusco. Our representative will be holding an Orange Board at the arrival terminal.
THE BRIEFING
It will take place the night before the trek at 6pm in our office, which is located at Calle Garcilaso 210, office 213 (first floor).
CAN I STORE MY LUGGAGE AT YOUR OFFICE:
ABSOLUTELY! During the Short Inca Trail to Machu Picchu, your main luggage can be stored at our office or at your hotel, both are free. Please pack anything you will need for your hike in your day pack for Machu Picchu.
HOW TO BOOK:
FIRST, to book your Short Inca Trail to Machu Picchu trek, we need you to fill out our booking form by clicking on BOOK NOW on our home page or click here – BOOK NOW.
Please be ready with the following information (FROM EACH PARTICIPANT in your group). We cannot purchase a Short Inca Trail to Machu Picchu permit without the following information:
Personal information (your full name, exactly as it appears on your passport):
Gender
Passport number
D.OB. (dd / mm / yyyy)
Nationality
SECOND, we require a deposit of $211.00 USD per person in order to purchase a permit for the 1 day Inca Trail to Machu Picchu. You can make your deposit by clicking on the VISA, MASTERCARD, DISCOVER, AMERICAN EXPRESS or PAYPAL.
MAY I CHANGE THE DEPARTURE DATE AFTER THE TICKETS HAVE BEEN BOUGHT?
Unfortunately the answer is No. Once the tickets have been purchased, the government does not allow any changes, so we can't change any departure date after the ticket has been bought. Tickets are also not transferrable nor refundable. If you cancel your Short Inca Trail to Machu Picchu Trek, the deposit is not refundable at all!
DO I NEED MY ORIGINAL PASSPORT ON THE SHORT INCA TRAIL TO MACHU PICCHU ?
DEFINITELY! You have to bring your original passport and it is very important that it is the same passport number you sent to us to book your Short Inca Trail to Machu Picchu permit. In case you are renewing your passport, go ahead and send us your old number to secure your permit, and we can change it when you get your new passport number. Please send the new passport number as soon as possible.
WHAT IS THE WEATHER LIKE IN THE SHORT INCA TRAIL TO MACHU PICCHU?
The weather is very unpredictable and it's difficult to foresee. The climate in Cusco has a temperature fluctuating between 14 º to 16 º C, with warm days and cold nights. The best time to do the Short Inca trail to Machu Piicchu is between the months of April through October, when the weather is warm. During the months of June, July and August nights are very cold which is why you are advised to bring a good quality 4 season sleeping bag.
The rainy season is during the months of November through March, if you want to do the Inca Trail this season has to bring warm clothes and be prepared, as the walk can be a bit more difficult, on the other hand, enjoy sight of a beautiful landscape and colorful flowers.
The month of February, the Short Inca Trail to Machu Picchu is closed for security reasons, as this month the rainfall is more intense. The weather along the Short Inca Trail to Machu Picchu:
The Average weather conditions on the Inca Trail:
Dry Season April – October
Day temperature 20ºC – 25ºC – Night temperature -1ºC – 7ºC
Wet Season November – March
Day temperature 17ºC – 22ºC – Night temperature 4ºC – 7ºC
We highly recommend you to bring some warm clothes and good rain gear in your day backpack.
IS THE TREK DIFFICULT, DO I NEED TO BE FIT?
The Short Inca Trail to Machu Picchu is a 12km (7.5 mile) hike through the Andes in the Cusco region. The maximum altitude reached is 2700mt.
In preparation: try walking 15kms in a day or go to the fitness club in the months leading up to the trek. It is also important to be well acclimatised to the altitude. Try to spend at least 2 or 3 days in Cusco (3350m/11,047ft) prior to starting the trek.
ARE WE DROPPED OFF AT OUR HOTEL AFTER THE SHORT INCA TRAIL TO MACHU PICCHU ?
Absolutely! Included in our packages is dropping you off at your hotel on the return from your trek or tour. If you have booked your hotel in the Sacred Valley like Ollantaytambo or Urubamba, we will drop you there too!
If you spend the night at Ollantaytambo before the trek, we wil pick you up there.
Stay hydrated
How do people feel after a night of drinking? Thirsty. That's how you'll feel when you arrive in Cusco. As already stated, the body dehydrates quickly in high altitudes. It is recommended you drink lots of water before and during your trip to Cusco. Also, avoid heavy meals since your stomach takes longer to digest food at high altitudes. A diet of low proteins and high carbs is advisable.
No one knew better the effects of high altitude than indigenous peoples. Coca is the best natural medicine to combat altitude sickness. It was even considered sacred because of its curative powers and is still used in the same way now as it was in the time of the Incas. It contains iron, vitamins A, B1, B2 and calcium, among other nutrients. Coca makes it easier for your bloodstream to absorb oxygen, suppresses hunger, combats fatigue, headaches and can ease your stomach. If you do not feel like chewing leaves (which can be bitter, apart from numbing your mouth), you can try drinking coca tea, which is most commonly found in the lobby of hotels in Cusco.
HOW MANY PEOPLE ARE THERE PER GROUP?
The maximum group size is 8 persons. Usually our groups are between 2-6 persons. ORANGE Travel Peru specializes in SMALL and PRIVATE groups and provides personalized service.
TIPPING
If you're happy with the services provided, a tip – though not compulsory – is appreciated. While it may not be customary to you, it's of great significance for the people who will take care of you during the trek. It inspires excellent service and is an entrenched feature of the tourism industry across many Orange Nation Peru destinations. Of course you are free to tip more or less as you feel, depending on your perception of the quality and the length of your trip. Remember, a tip is not compulsory and should only be given when you receive excellent service.
ARE YOU SUSTAINABLE?
Yes, we are a local sustainable & responsible tourism operator f that incorporates the universal principles of tourism: protect the environment and benefit the local communities respecting their culture and religion. With this in mind, we have trained all our staff to know, understand and respect the local places and its people.
[tabby title="Packing list"]
PACKING LIST FOR THE SHORT INCA TRAIL
The Short Inca Trail to Machu Picchu DOES NOT INCLUDE the extra porter so you will need to carry all your things, please try to pack as light as possible to enjoying this trek.
We can transfer small backpack from Cusco to Aguas Calientes Hotel for free!
Original Passport(it has to be the same you have used for booking your trek)
Good daypack
Drinking Water – 1 to 2L
Comfortable hiking boots
Toilet Paper
Necessary clothes
Warm clothes
Jacket
Toothbrush and toothpaste
Personal medications
Sun Hat
Sunscreen
Warm Hat
Snacks like chocolate bars, protein bars
Rain plastic poncho (provided by ORANGE NATION)
Camera
Extra Money for Souvenirs, Drinks & Tips
[tabbyending]