Best Updated information about Lima, Peru
For travelers, Lima is merely the gateway to renowned national treasures of Peru, be it Machu Picchu in Cusco or Lake Titicaca in Puno. It's true that the capital city is home to the Andean nation's main international airport, but Lima is worth more than a short stopover. An award winning culinary scene, archaeological sites, and Colonial style architecture surrounded by urbanized areas, and near constant views of the Pacific Ocean make Lima a thrilling introduction to your Peru journey, if not the main destination.
It is the gateway to the country as most travellers to Peru will enter and exit through the city's modern airport.
The city is located on the Pacific in the central coastal area of the country. It is a large sprawling conurbation whose metropolitan region has a population of over 11 million people.
For travelers who give it time, Lima offers travelers a chance to experience a vibrant, dynamic city that is full of culture, history, museums, boutiques, and amazing Pacific sunsets. The cherry on top, Lima is one of the food capitals of the world, with mouthwatering cuisine that will delight your taste buds..
Climate
Lima has a mild desert climate where temperatures rarely fall below 14 °C (57 °F) or rise above 29 °C (84 °F).
Summer is from December to April and Winter June to October.
In Summer you may well get colourful sunsets whilst in winter the skies are generally overcast with a high probability of drizzle.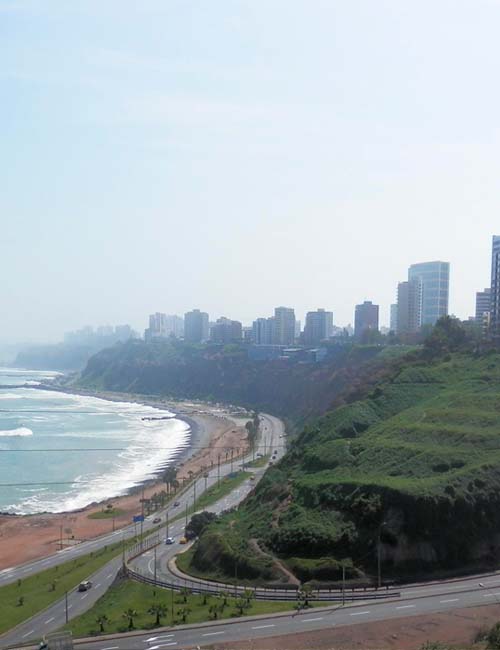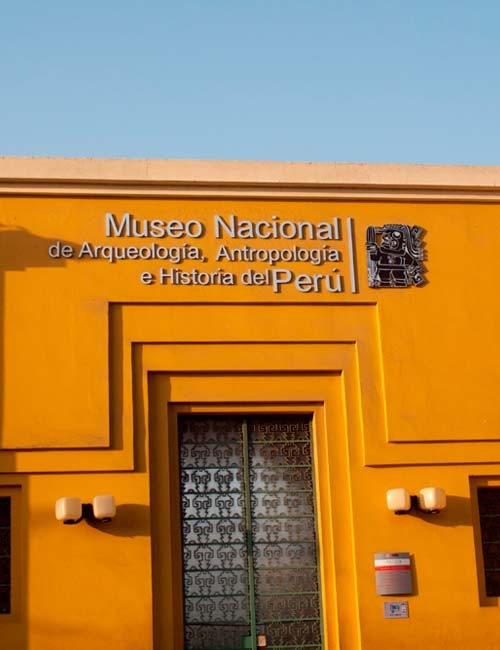 Museums in Lima
The city boasts some of the finest museums on the continent.
Two of the most popular museums are:
The Larco Museum, (Av. Bolivar 1515, Pueblo Libre, Lima) which houses a fascinating collection of gold, silver and textiles from pre Columbian times. The building itself, a colonial mansion is built on a pre Columbian pyramid site.
The Archaeology, Anthropology and History Museum (Plaza Bolivar, Lima) Peru's oldest museum housing textiles, figurines, stone tools, ceramics and metalwork dating back to Pre Columbian times.
Gastronomy in Lima, Peru
Peruvian gastronomy is famous region wide and is getting itself known on the world stage. Lima has three restaurants in the World's 30 best restaurant list of 2018 These are:
Central: (Santa Isabel 376. Miraflores, Lima) A culinary journey through Peru from the Pacific Ocean to the peaks of the Andes. Ingredients are foraged from all over the country.
Maido: (Calle San Martín 399, Miraflores – Lima) Where Japan meets Peru. They call this fusion, where the two cultures meet in harmony and create a third reality the Nikkei Experience.
Astrid y Gaston: (Av. Paz Soldán 290, San Isidro, Lima) This restaurant is responsible for helping to transform contemporary Peruvian cuisine to what it is today.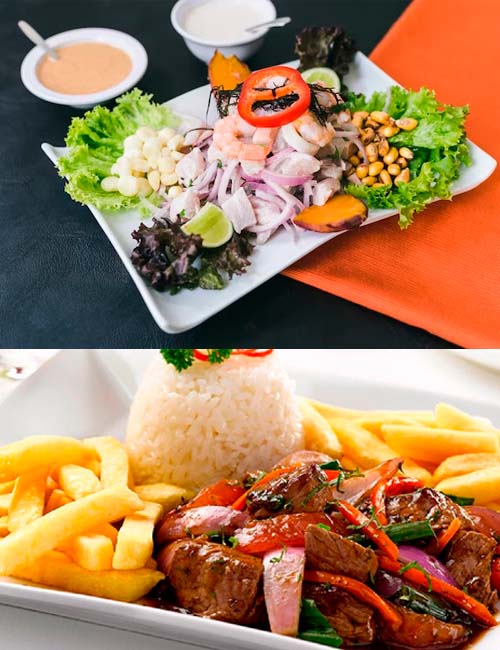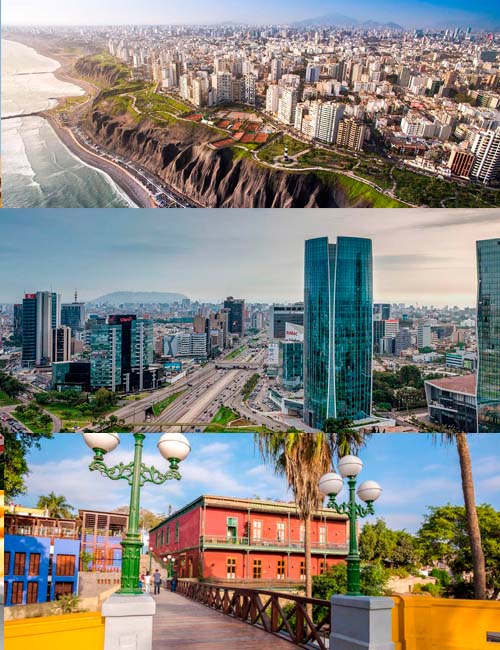 Where to stay in Lima
Most tourists stay in the districts of Miralfores, San Isidro and Barranco, where there is a wide variety of hotels. These districts are ideal for exploring on foot and have plenty of dining options.
Walking in Lima or even a bike tour
One of the best ways to explore the Lima city is on a guided walking tour. At Orange Nation & SAM Corp we can include a guided walking tour into your itinerary which takes in the principal sites of Lima like the Central Market, Congress and Plaza Mayor.
As in most big cities we recommend you go out with just what you need and leave any jewellery or valuables in the hotel safe.
Something different in Lima City.
Water Fountains, lights and music: (Parque de La Reserva Lima)
Tuesday to Sunday, the fountains in Parque de La Reserva provide visitors with great spectacle with lights and set to music.
Monasterio de San Francisco, (Plazuela San Francisco, Lima). A visit to the bone lined catacombs is not for the faint hearted.
Museum of the Inquisition, (Plaza Bolivar, Lima) Another place not for the faint hearted. All means of "persuasion" used by the Inquisition are shown.
If you are planning a trip to Peru you might want to consider a stop in Lima at the start or end of your tour, we recommend to spend 1 or 2 days.
Contact Orange Nation and we can plan your trip of a lifetime to Peru and Machu Picchu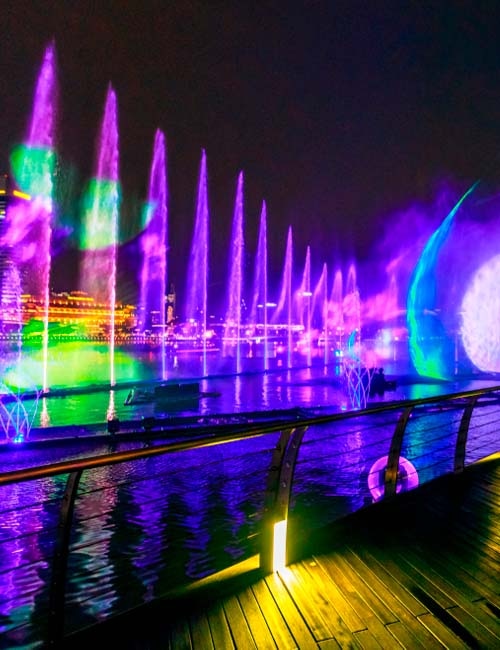 Usufull Travel Tips for Travellers.

Lima Airport (Jorge Chavez International Airport)
Even if you're not spending a lot of time in the city, you'll probably transit through Peru's principal gateway, the Lima Jorge Chavez International Airport. To arrive in the city's popular Miraflores and Barranco districts, you must take a 40-60 minute transfer, depending on traffic.
The airport is located in the Callao district, about 6 mi (20 km) from Miraflores. For travelers with an early morning or late night flight out of Lima, the Wyndham Costa del Sol Airport Hotel provides maximum comfort while in transit.
Is Lima safe for tourists?
Like in any big city, you should take standard precautions to stay safe while exploring Lima. Some areas of Lima city are safer than others, but the main tourist areas are fairly safe, especially in daylight hours. In the evening hours, stick to well-lit major streets for extra safety.
How can I get from Lima to Cusco?
To get to Lima from Cusco, you need to make your way to Jorge Chavez International Airport of Lima, and board a 1 hour flight to Alejandro Velasco Astete International Airport of Cusco. Some travelers prefer to travel to Cusco by bus, the bus ride to Cusco takes approximately 23 hours and the route through the mountains consists of very high and windy roads.
Safety Tips for things to Do and See in Lima
Some important safety tips include:
Don't wear flashy, expensive jewelry
Limit your use of your cellphone when out and about walking through the streets
Keeping your bag on your person at all times and your backpack in front of you rather than on your back in crowded populated areas. Even in restaurants, keep your bag on your person, not hanging from the chair
At night, stick to well lit, populated streets
Use Uber to get around quickly rather than a random street taxi (taxi organized through your hotel is fine)
Know your route and walk with confidence
Basic Packing list for Lima
If you're heading to Lima, there are some things you are going to make sure you have:
Sun Protection; If it's the summer, you'll definitely need to bring sunblock as the UV index can be quite strong in this city so even if you don't' usually burn, in Lima you likely will. Don't forget to bring your sunglasses as well.
Clothing; For clothes, t-shirt, shorts, comfortable, loose-fitting pants and sundresses are perfect. If you want to do some exercising along the coast, pack some athletic wear as well. A sweater, jacket and light rain jacket for layering should be added during the winter months (May-October). A bathing suit in the summer (December-April) is a good idea as well.
Footwear; City boots or comfortable walking shoes with support are a must.
Documents; Of course don't forget to bring your passport as well as copies of your passport as backup. It is also good to have all confirmation codes and tickets organized and protected in a designated compartment or folder.
Electronics; In terms of electronics, don't forget your mobile phone, Peru power adapter, camera and portable charger.
Personal items; Other things to always carry around include a first aid kit, sanitizing wipes, hand sanitizer and travel toilet paper (public restrooms often don't have it).

Getting Around Lima
Guided tours of Lima usually include transportation between sites. For sightseeing without a guide, the Mirabus and Turibus offer convenient tour bus service to the city's top attractions. If you prefer to explore on your own, the Lima Metropolitano provides the easiest and fastest way to move around the city while avoiding getting stuck in traffic.
If you prefer taxis, your hotel can call you a secure taxi. Please keep in mind the taxis are not metered, so it is best to negotiate your fare before hopping in. If you don't speak Spanish, your hotel concierge can help do this for you.
Local Currency in Lima
Carry local currency (called Soles) in small denominations to pay for taxis, tips for guides, small purchases, and meals at cafes and restaurants. Vendors rarely have change for larger bills, so it's best to have small change. Larger balances at shops, restaurants, hotels, and some tour agencies can be paid with a credit card. As of April 2023, $10 USD is roughly 36 Soles.
Money Exchange
There are money exchange locations all over the tourist districts, called Casa de Cambio (House of Change). In Miraflores, you can find them all along Avenida Larco, which is the main avenue connecting the popular Parque de Kennedy to the coastal outdoor malls and parks. As of May 2023, $1 USD equals s/. 3.37 soles.
Commun Sence Tips
For travel
Book your hotel or hostel in Miraflores or Barranco, because there you can find the best ones.
Get information about the places that you want to visit.
Take all your documents with you.

Health
Drink bottled water.
Eat meat and fish well cooked, preferably served hot.
Vegetables should be cooked and fruit should be peeled.

Security and Safety
At your arrival at the airport is recommended to take taxis which are inside it, they are more safety. Also you can ask your hotel to send you a transfer, especially if your flight arrives at night.
Try to walk in lighted and crowded areas.
If you need to change money go to changes offices.
You must be careful when you take money, cameras o video with you.