All you need to know about Rainbow Mountain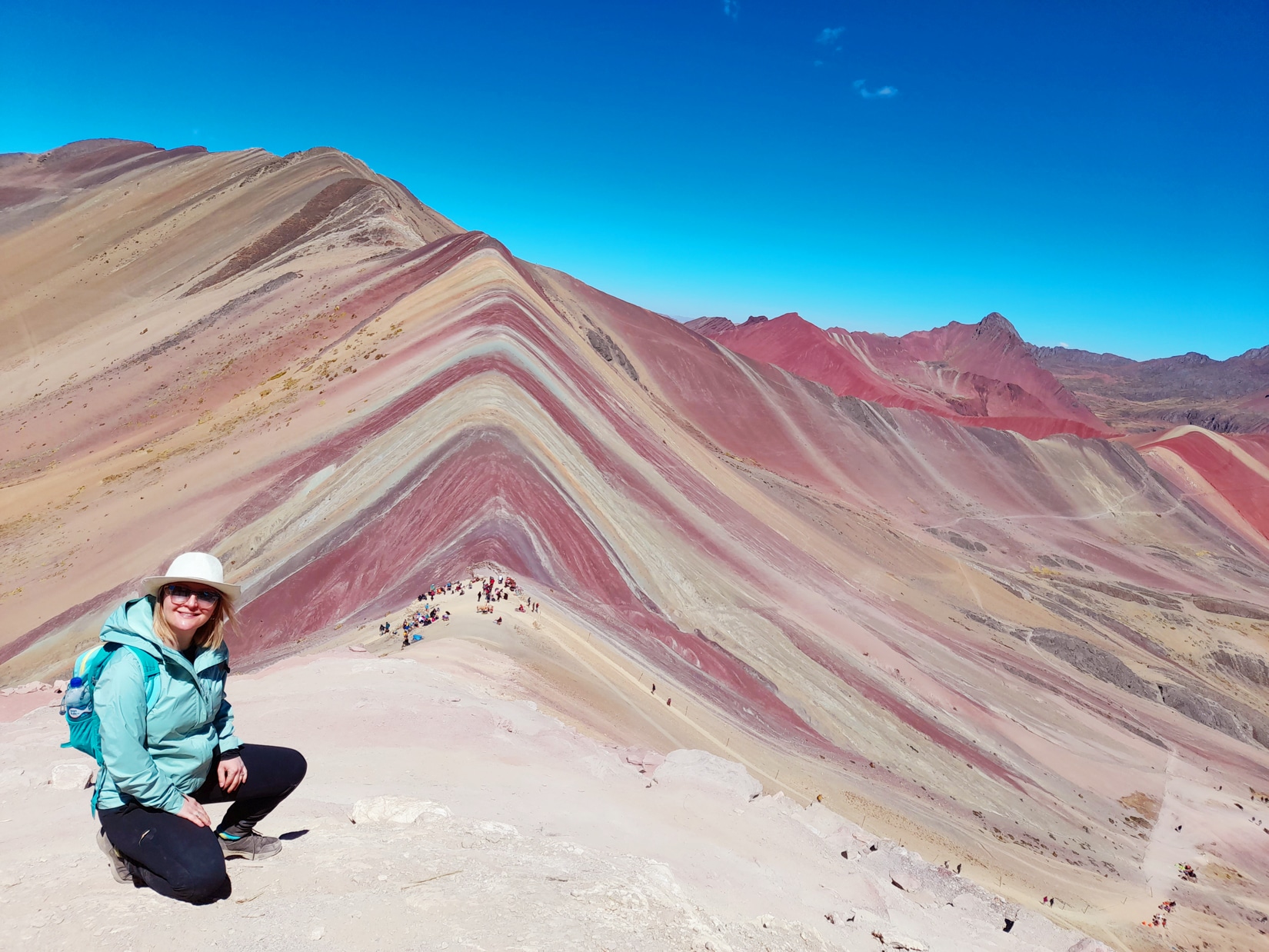 What is Rainbow Mountain
Rainbow Mountain is the best tourist attraction to visit in Peru after Machu Picchu. This natural phenomenon stands at a breath stealing 5,200 meters (17,060 ft), in the Vilcanota Mountain Range. This newly discovered must-see destination only grabbed the world´s attention in 2015. It was discovered when snow melted off the mountain and revealed the vibrant and stunning colors of gold, lavender and red that lay beneath. This natural beauty was formed by weathering conditions and the minerals found in the soil. Its dynamic colors create this marble effect that glows in the sun and a sharp contrast when its laden with snow.
How to get to Rainbow Mountain
Since its discovery, tourism has flourished in this isolated region of Cusco. Thousands of visitors trek to Rainbow Mountain, the Red Valley and the Ausengate Mountain. There are a number of different tours to choose from when visiting Rainbow Mountain. The shortest and easiest way is to do a day tour is with a travel agency, either by joining a group or doing a private tour. These day tours sometimes include a short hike to the nearby Red Valley. It can also be done as part of a multi-day trek to Ausengate for the hiking enthusiasts. For the adrenalin junkie, the perfect tour to partake in includes a thrilling quad bike ride with expansive views of the Red Valley and the majestic snow-capped mountain peak of Ausengate.
The mountain is at very high altitudes and the option to hire a horse from the locals once you arrive at the trailhead makes the hike achievable for almost everybody.
Public transportation to the trailhead is unsafe and unreliable. The journey takes about 3 hours to the isolated village of Pitumarca. This is then followed by an hour drive to the trailhead. The hike itself is about 1.5 hours at high altitudes. We recommend choosing a reputable tour operator, so you don´t have to deal with the logistics of local transportation.
Rainbow Mountain from the perspective of the locals.
There locals refer to this mountain as Vinicunca or the montaña de 7 colores (seven-colored mountain). They regard it as a holy site and its closely located to the even more revered Ausengate mountain. The mountainous people of Peru have always found spiritual divinity withing the mountains. Ausengate is considered as an Apus in this region and at certain times of the year, pilgrims climb up to the top to give thanks to the life gifted by the mountains. With the discovery of Rainbow Mountain the locals have respected the spiritual energy they believe is given off by this mountain.
This geological wonder of Rainbow Mountain or Vinicunca sits in the remote region of the Andes Mountains, among locals that still follow a traditional way of life, with their own indigenous religious beliefs.
The altitude and acclimatization
The trail begins in Llacto at (4,638m/15,216ft) above sea level. Therefore the hike itself starts at very high altitudes and is a gradual 1 hour ascent to the top. The climb is not particularly intimidating and it can be easy to underestimate the challenges altitude creates. Because of the high altitude, its imperative to acclimatize to the altitude in Cusco or the Sacred Valley for 2 or 3 days before embarking on this trail. Next, walking in a considered pace will help avoid the extreme affects of altitude sickness. Also, remember to listen to your body, take short deep breaths and rest when you need to. Hiking is never a competition, its a personal journey of discovery and enjoyment.
Choosing a tour operator that is experienced with rainbow mountain tours is gold. Firstly, they will know to bring a can of oxygen incase you suffer from the most extreme symptom of altitude sickness, which is loss of oxygen. They also carry with them the local remedies for altitude sickness like coca leaves. We recommend consulting your doctor about what medication to take to combat altitude sickness before leaving home. Your guide will not recommend or administer any medication because they are not licensed medical personnel.
Weather: Best time to hike Rainbow Mountain
The best time to hike Rainbow Mountain is during dry season, which is between April to September. During the dry season its less likely to rain, daily sunshine is a norm and the weather is a lot more predictable. It is an easier hike without the rain and unfortunately, the colors will not be as prominent under grey skies. There are also chances of thunderstorm that occur without warning that high up in the mountain during the rainy season. However, seeing views of the mountain slightly covered in snow gives a different perspective. The snow creates a sharp contrast between the white and bright colors of the mountains that peak through, only when snow is not completely blanketing the mountain in white.
You should still be well prepared for all weather, even if you go during the dry season. At the top of the mountain, it can get chilly with little warning and light rain showers can occur. So bring things to protect you from the harmful sun rays like sunglasses, a poncho for the rain and an extra jacket for when the weather gets colder.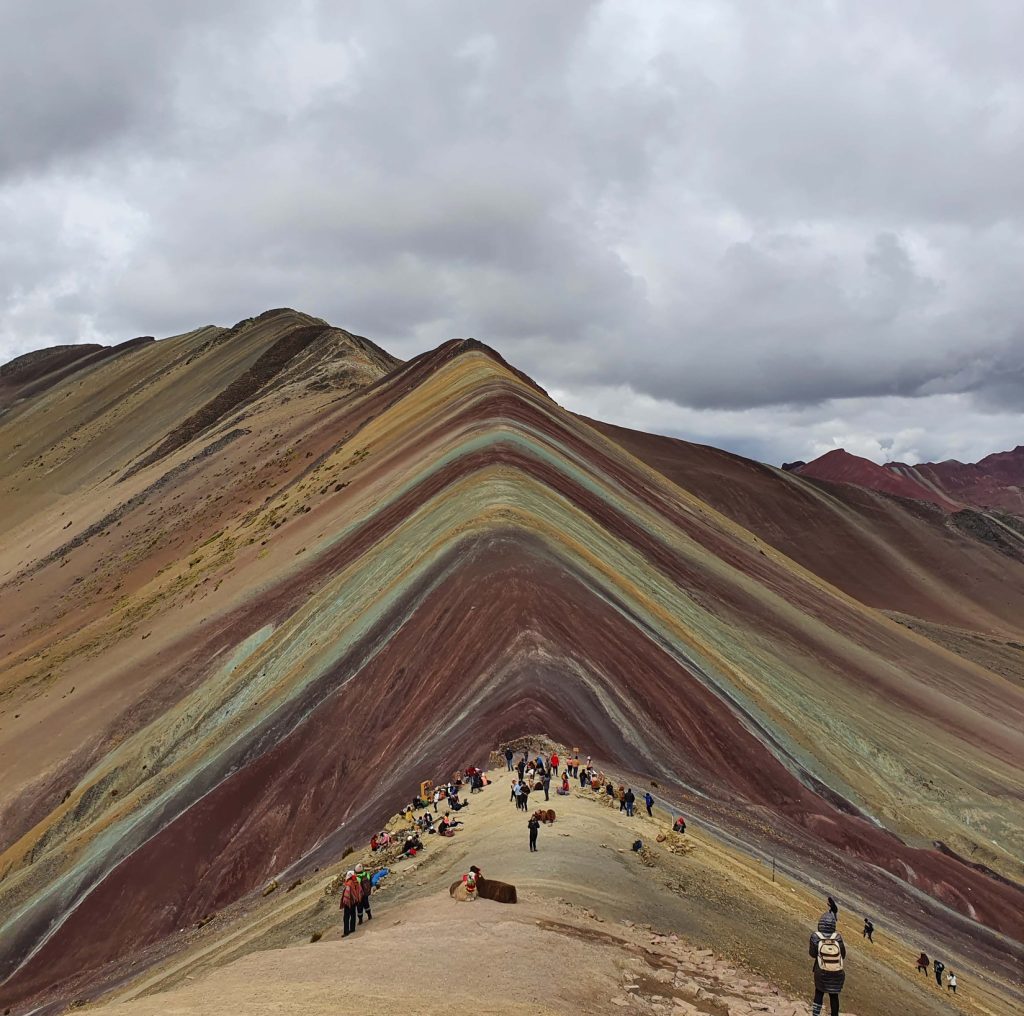 What to pack for Rainbow mountain
The list below is just a short listing of the most important essentials. Click on the link at the end of the paragraph for a more comprehensive list.
Layers : You need to bring layers, the weather tends be very chilly in the early hours of the mornings, gradually getting warmer as the day goes on. All in all the weather is unpredictable so pack for the heat, cold and rain.
Rain gear: There is always a chance of rain on rainbow mountain. A poncho that fully covers yourself and your backpack is always a good idea.
Comfortable hiking boots : The majority of the hike is pretty gradual and is comfortable a hike. However, on the last section, the hike is extremely steep and requires shoes with good grip.
Protective clothing: You trek goes through very high elevations. The sun rays this high up have high UV rays and can be harmful to the skin. So, we recommend wearing clothing that cover legs and arms and also bring a pair of sunglasses.
Sunscreen and Insect repellent: Sunscreen is to protect you from the sun and insect repellent is to avoid bites from the small bugs that live here.
Toilet Paper and Hand Sanitizer: We can´t stress this enough. Its also just a good idea to always have a roll of toilet paper in your day pack when traveling in Peru. Not all bathrooms come with toilet paper. Also hand soap is not a common practice, so a small hand sanitizer bottle comes in handy.
Coca leaves and headache tablets: Coca leaves are a natural remedy that many generations of Peruvians including the Incas have used to combat altitude sickness. You can buy the leaves from almost everywhere and they are very cheap. Headaches are a common side effect of altitude sickness, your guide cannot give you these, so its a good idea to bring your own incase its needed.
Water and snacks: There are stalls along the trail to buy water and other small snacks, like chocolates bars. However, we recommend bringing your own refillable bottle for the hike. Its important to keep hydrated at high altitudes because the body dehydrates quickly.
Packing List for Rainbow Mountain
Rainbow Mountain Trail
The rainbow mountain trail is absolutely stunning. You get picturesque views of the massive Ausengate mountain that's blanketed by snow all year round, flanking you to your left. Enroute, you pass locals that speak the indigenous language of Peru (Quechua). People in the isolated villages in Southern Peru mainly speak Quechua and if you choose a good tour company they will help you communicate with the locals. The locals dress in their eye catching colorful traditional gear, which you can admire and take pictures of. Also, find them selling water, snacks and souvenirs made of the wool from the many llamas and alpacas you pass along the trek.
The trek is divided into two trails, one for horses and another for people walking. A great perk provided by the locals is the option to rent a horse that will take to you to the edge of the last section. The last section is an extremely steep incline and its not safe for the horses when they have to come back down. If you choose not to hire a horse at the start of the trail but change your mind, then you are in luck because you get another opportunity to get one at the halfway point. Ask your guide to negotiate a price for your, on your behalf. The proceeds from the rentals goes directly to the locals.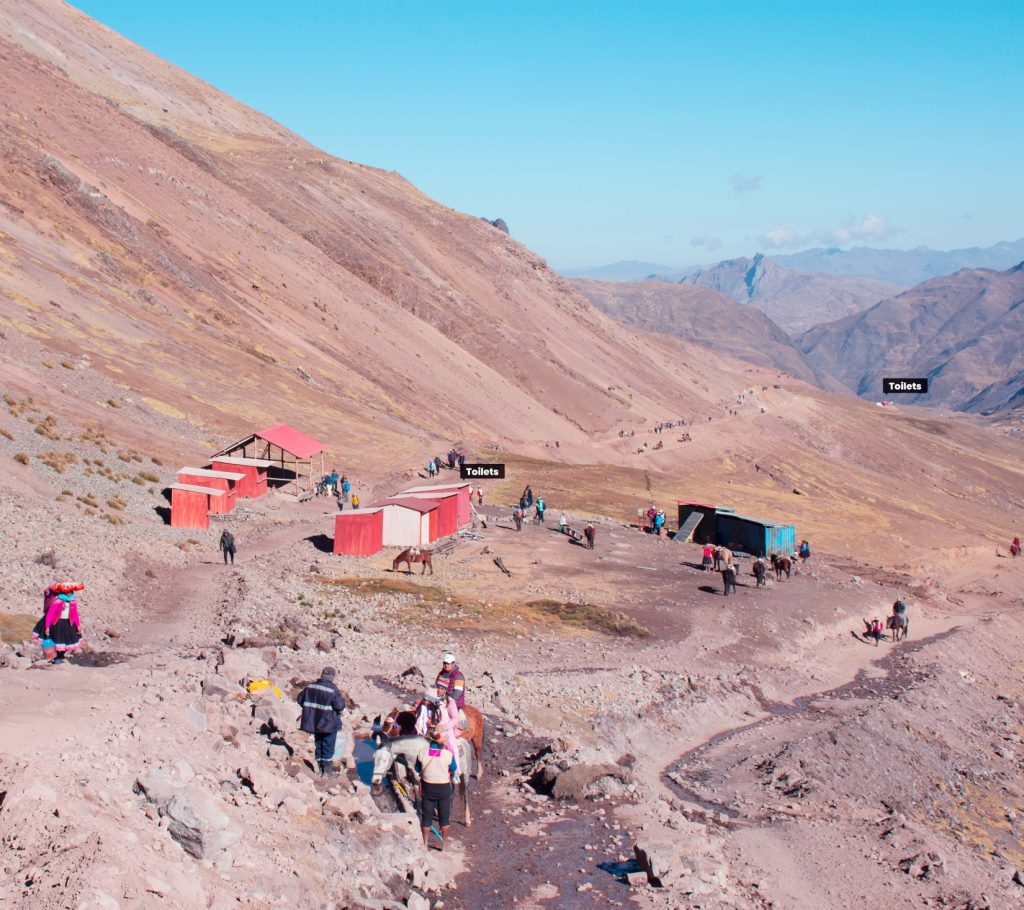 Toilets
The restrooms found on the trail are basic and are not always sanitary. However, further up at the entrance gate, they have clean flushable toilets that are well maintained for a very small fee. We recommend using these restrooms on the way in and on your way out. You will not find better along the trail. The toilets on the trail also cost around 1 to 2 soles. It is essential that you bring your own toilet paper because this not always provided.
Red Valley
Adjacent to Rainbow Mountain is the even more unbelievable Red Valley, which looks like a scene straight out of Mars. Its bright red with splashes of green flora all around it. It´s a short optional 20 minute hike from the summit and it´s a journey not to be missed. The best thing about this place is that, it usually has a lot less crowds and gives opportunities to take stunning photos. There are also more chances to interact with the locals and learn a phrase or two in Quechua. The trek is less challenging than Rainbow Mountain and the landscape is truly other worldly.
Inclusions
Note: All inclusions are dependent on the tour operator you choose. This inclusion are curtesy of Orange Nation. Orange Nation offers a tour to Rainbow Mountain with arguably the inclusion, at competitive prices.
Entrance tickets into The Red Valley
Entrance tickets into Rainbow mountain
A fully licensed guide with many years of experience
Multi-lingual guide, that can speak English, Spanish and Quechua
Fully guided tour of Rainbow Mountain and Red Valley (if you choose to do this optional hike)
Private transportation with pick-up at your hotel lobby and drop-off at your hotel
A first-aid kid with an oxygen tank incase of emergency
A hearty breakfast cooked by Orange Nation´s own private talented chef.
Small groups not exceeding 8 people or a private tour
Tours of Rainbow Mountain
Rainbow Mountain 1 Day
Rainbow Mountain 2 Days
Ausengate Rainbow Mountain Trek 4 Days
Ausengate Rainbow Mountain 6 Days
Frequently Asked Questions
Do you need a guide for Rainbow Mountain?
Technically no, but getting your bearings is not easy in a remote village, with unreliable public transportation. If you are short on time or want to get the most out of your trip, opt for a tour from a reputable travel agency. It is the fastest and safest way to visit Rainbow Mountain.
How do you get to Rainbow Mountain from Cusco?
The easiest and safest way is to take an organized tour from Cusco. Travel agencies offer tours to Rainbow Mountain in private service or in small groups. Be on the look out for extremely cheap companies that will guarantee departures if they reach large numbers, like 15 or 20. These companies can cancel your trip at the last minute, which is extremely inconvenient.
How difficult is the Rainbow Mountain hike?
Hiking to Rainbow Mountain is not easy but not impossible, in fact there is the option to go on horseback. The hike itself is at a moderate level of difficulty. The biggest factor to consider when hiking is the altitude, the hike itself is short and the climb is mostly gradual.
How much does it cost to go to the Rainbow Mountain?
The cost varies based on the type of service you select and the travel company you prefer. To know the exact price click on the following link: Orange Nation Rainbow Mountain 1 Day.
How do I prepare for Rainbow Mountain Peru?
First and foremost you need to acclimate to the altitude. Spending 2 or 3 days in Cusco or the Sacred Valley should be sufficient. This hike does not require a high level of fitness. However, for obvious reasons the better your physical condition, the more enjoyable the hike will be. Altitude sickness is not directly linked to fitness, it affects people differently for whatever reason. You can do this hike with the very little preparations and your fitness level is not an unsurmountable obstacle.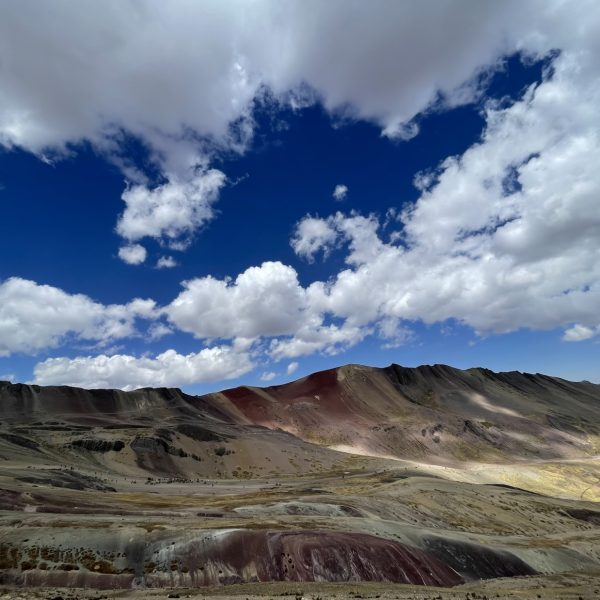 Toilets Rainbow Mountain - Orange Nation...